With just more than a week left until the premiere episode and a new trailer full of intense teases, Game of Thrones has everyone bracing themselves for the newest season. Even Siri, apparently. 
Last week, word spread of Siri's hilarious responses to the question that's been plaguing everyone since last season, "Is Jon Snow dead?" And although the artificial intelligence-powered iPhone assistant offers great thoughts on the matter, her Game of Thrones knowledge and puns go well beyond the intense cliffhanger scene at Castle Black, according to an extensive report by Mashable.
Here are several examples to help get you ready for April 24th, including a few responses about Snow's fate:
Recommended Video
These 3 Gadgets Are Your Summertime Essentials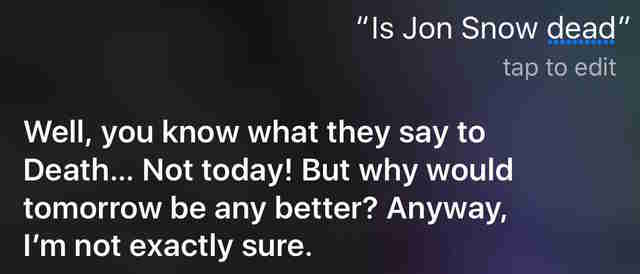 Sir appears to be hopeful. Well, maybe just a little.
Um OK, Siri. Spoiler alert?
But Siri's fandom doesn't stop at Jon Snow death speculation. Just ask her, "Siri, do you watch Game of Thrones?"
Ask Siri again and you might get this spot-on reference.
Siri will also react to the ominous news... with another random reference.
And, sometimes, with a particular one-word response. Too bad Siri only seems to hear "How old are" when you say "Hodor" back to her.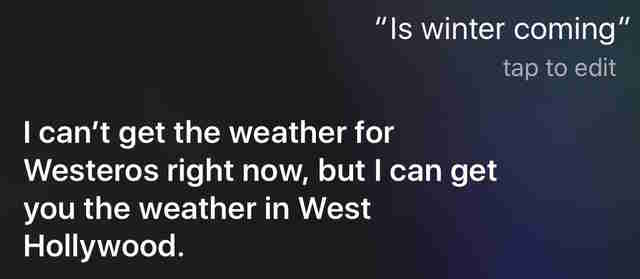 Anyone who's watched a minute of Game of Thrones knows the real answer to this one, but of course, Siri has a sassy response
Know of any other great Game of Thrones responses from Siri? Let us know and we'll add 'em.
Sign up here for our daily Thrillist email, and get your fix of the best in food/drink/fun.
Tony Merevick is Cities News Editor at Thrillist and can't wait for April 24th. Send news tips to news@thrillist.com and follow him on Twitter @tonymerevick.