Last-Place Olympic Skeleton Racer's Joyous Dance Will Make Your Day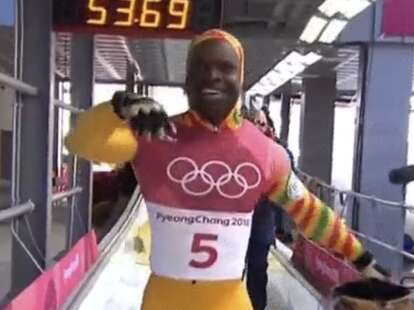 Yun Sung-Bin stole the show when he grabbed gold for South Korea in men's skeleton on Thursday. The deafening cheers and his record-breaking run were the story of the event. With so much going on, you probably missed Akwasi Frimpong, the first-ever Olympic skeleton competitor from Ghana or any West African nation. (Skeleton is like luge, but different, in case you haven't tuned in.)
Frimpong finished in last place, but that didn't ruin his good mood. He was clearly thrilled to have made it to the Olympics in a groundbreaking appearance for his country. The biggest indicator of Frimpong's joy? He wouldn't stop dancing. He danced on the track. He danced for fans. He was just having a damn good time.
Frimpong's reaction was like Mexico's German Madrazo who finished last in cross-country. Many have been calling him an inspiration and simply enjoyed seeing him compete.
Finishing last didn't dampen his spirits or ambitions. "I'm focused a lot on 2022," he told Reuters, "because my goal is to win a medal for Africa — and that would be a real big breakthrough.
"There have been a lot of misconceptions but now we have Africans in skeleton, bobsleigh, snowboard, and skiing, I just think it's going to be great for the continent of Africa," Frimpong, who is currently based in Utah, said.
Check out his dance below.
Sign up here for our daily Thrillist email, and get your fix of the best in food/drink/fun.
Dustin Nelson is a News Writer with Thrillist. He holds a Guinness World Record but has never met the fingernail lady. Follow him @dlukenelson.