Nobody Really Likes This Skittles Flavor, According to Skittles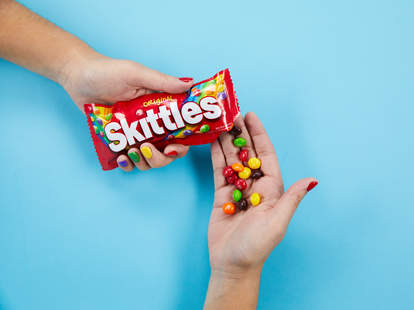 Everyone is entitled to a favorite Skittles flavor, but if it isn't orange, you're wrong. And while this might be partially based on my own personal preference (OK, fine, it's entirely based on that), there is one universally disliked flavor and it's not even up for debate -- because Skittles themselves have confirmed it.
Everyone hates yellow.
In honor of the brand's iconic "Taste the Rainbow" tagline, which turned 30 on Wednesday, independent research firm Kelton Global conducted a little survey. The group polled 2,000 US adults who have indulged in the last three months. And while some of the results seem rigged to me (red was ranked No. 1), yellow was the obvious loser. Only 6% of people said it was their favorite.
"Whether it's conscious or subconscious, chances are you have a preferred way to enjoy Skittles," Senior Brand Manager Rebecca Duke sad in a statement. "We love learning about our fans, so we wanted to understand why these preferences exist and what they really mean."
Considering Skittles track record (ICYMI, they switched out lime for green apple in 2013), I thought maybe they'd do the same for the clearly inferior yellow flavor, but nope.
"The Rainbow wouldn't be complete without lemon!" a spokesperson for the company told Food & Wine. "Every flavor is essential to The Five Fruity Flavors in the Originals mix, and although lemon may not be everyone's go-to flavor, we have no plans to change our Originals mix."
But hey, Skittles execs! If you're reading this, can we get an orange-onlybag??? Thanks! 
Sign up here for our daily Thrillist email and subscribe here for our YouTube channel to get your fix of the best in food/drink/fun.
Megan Schaltegger is a staff writer at Thrillist. Follow her @MegSchaltegger.