Skittles Just Unleashed a Special 'Love Mix' for Valentine's Day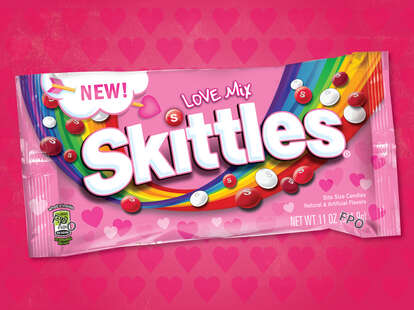 Who's to say whether anyone's ever been excited for Valentine's Day, but we all deal with it just the same. Take solace knowing that this Valentine's will be slightly better than the others though: Skittles just released a new flavor mix to improve the still-pretty-annoying holiday.
This festive batch is appropriately called the "Love Mix" and features red, white, and pink iterations of those little sugar drops you'll always love better than any human person. The flavors include watermelon, white grape, strawberry, cherry, and yumberry.
The Love Mix is part of a whole line of Target-exclusive Valentine's Day candies, according to a spokesperon. The rest of the crop includes Dove Milk Chocolate & Caramel Love Notes, Ghirardelli Valentine's White Chocolate Crème Brulee, Godiva Cake and Cookie Inspired Chocolates, Hershey's Cupcake Kisses, Lindt Lindor Red Velvet White Chocolate Truffles, and Reese's Peanut Butter Love Bugs.
Candy may not be the most imaginative gift for a sweetheart (people still say that right?), but it'll always be a great gift for yourself.
Sign up here for our daily Thrillist email and subscribe here for our YouTube channel to get your fix of the best in food/drink/fun.


James Chrisman is a News Writer at Thrillist who only comes in one extremely bitter flavor. Send news tips to news@thrillist.com and follow him on Twitter @james_chrisman2.