Donald Trump Jr. Compared Refugees to Skittles, But Skittles Shut Him Down Hard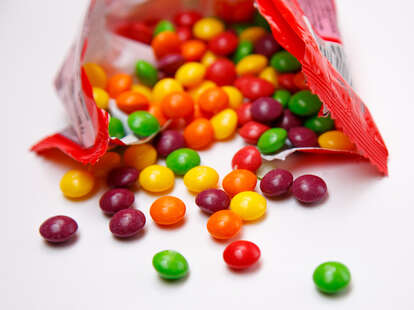 Skittles, the fruit-flavored candies that allegedly fall from the sky, are already hard not to love (well, maybe except for the green ones). But now, fans of the rainbow-flavored sweets are applauding the brand's glorious response a meme tweeted by Donald Trump Jr., which bizarrely -- and with incorrect punctuation -- compares Syrian refugees to a bowl of Skittles.
On Monday night, the Republican presidential nominee's eldest son (and close campaign advisor) tweeted the meme, which shows an innocent bowl of Skittles with the message, "If I had a bowl of skittles and I told you just three would kill you. Would you take a handful? That's our Syrian refugee problem." Here's the actual tweet, including Donald Trump Jr.'s added commentary:
As you can imagine, Skittles was not at all pleased about its role in the controversial meme. Shortly after Trump's tweet, a spokesperson for the popular candy brand issued a statement that not only distanced Skittles from the offensive message, but also brilliantly destroyed the meme's entire premise in just a few words. Here's the full statement, via a report by NBC News:
"Skittles are candy. Refugees are people. We don't feel it's an appropriate analogy," Denise Young, Vice President of Corporate Affairs at Skittles' parent company, Wrigley Americas, said in the statement. "We will respectfully refrain from further commentary as anything we say could be misinterpreted as marketing."
Pretty damn classy, right? Plenty of other people think so, too, as evidenced by responses on Twitter:
Sure, you probably shouldn't count on Skittles' response to change peoples' stance on the issue of admitting refugees into the United States, but it's good to know that with the storm of the 2016 presidential election barreling toward November, Skittles' candy-coated rainbow will shine through.
Sign up here for our daily Thrillist email, and get your fix of the best in food/drink/fun.
Tony Merevick is Cities News Editor at Thrillist and feels like it's been too long since he's had Skittles. Send news tips to news@thrillist.com and follow him on Twitter @tonymerevick.