These Are the Best Cities for Young Professionals Right Now
Denver

| Shutterstock
Denver

| Shutterstock
Finding your footing during early adulthood in a city is never easy, trying to map out some semblance of a career path while tightening the purse strings to make rent every month. It's a reality that often rings especially true for millennials, many of whom are earning significantly less than previous generations were at their age. However, certain locales can make thriving in your twenties and early thirties a lot easier than others, according to a new report on the best American cities for young professionals right now.
Compiled by the team at financial technology company SmartAsset, this new survey considered a glut of relevant data on everything from job availability to cost of living in major metropolitan areas to determine which cities are best for young professionals (ages 25 to 34) in 2019. Specifically, the researchers looked at the 150 biggest municipalities around the country and compared them using nine different metrics, including median gross rent and median gross earnings, job diversity, unemployment rates, and the density of entertainment establishments. Then, they crunched the numbers and ranked the cities accordingly.
This year, SmartAsset names Sioux Falls, South Dakota as the best city for young professionals, followed closely by Austin, with Denver and Nashville tying for third place. Here's how the full ranking of the top 25 panned out.
Best Cities for Young Professionals in 2019
25. Aurora, CO
24. Overland Park, KS
23. Columbus, OH
22. Louisville, KY
21. Washington, DC
20. Lincoln, NE
19. Reno, NV
18. Lexington, KY
17. Scottsdale, AZ
16. Boise, ID
15. Arlington, VA
14. Portland, OR
13. Des Moines, IA
12. Atlanta, GA
11. Omaha, NE
10. Charlotte, NC
9. Seattle, WA
8. Madison, WI
7. Minneapolis, MN
6. Raleigh, NC
5. San Francisco, CA
3. Nashville, TN & Denver, CO (tie)
2. Austin, TX
1. Sioux Falls, SD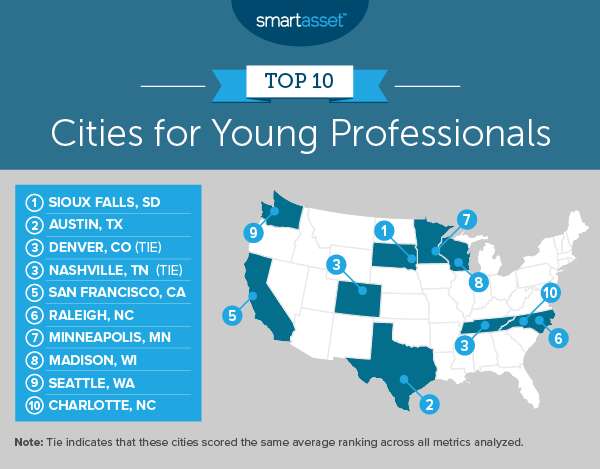 Notably, not a single city in the Northeast landed in the top 25 this year, not that younger folks living in places like Boston or New York need much of a reminder how tough it can be to comfortably swing it there. Alternately, both Nashville and Denver have shot to the top of the rankings this year, after landing in the 20 and 25 spots, respectively, in the same study from 2018.
Of course, knowing which cities may be more hospitable in terms of quality of life is one thing, but picking up and plopping down in a brand new place isn't so simple. Though if you are open to relocating and aren't necessarily married to staying in the States, you may also want to consider your surprisingly affordable options abroad.
Sign up here for our daily Thrillist email and subscribe here for our YouTube channel to get your fix of the best in food/drink/fun.