These Are the Best Places to Live in the U.S. on a $60,000 Salary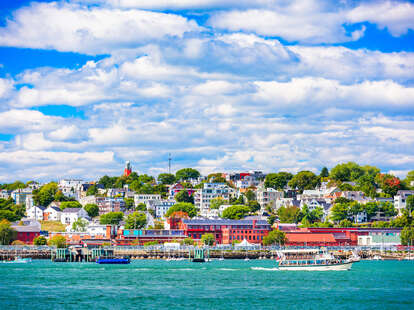 New York is a ripoff. A beautiful, culturally vast ripoff, but one nonetheless. The rent is high, the apartments are small, and the paychecks -- no matter how great -- seem to pale in comparison to the cost of living. And while, personally, I have no plans on leaving (I'm, unfortunately, hooked), you can save yourself!
Personal finance site SmartAsset has made it really easy for you to find a cost-effective home city. Based on Census Bureau data detailing the country's median household income (it was $61,937 in 2018), the site rounded up the best places to live on that salary.
SmartAsset analyzed 109 cities across the following metrics: "median household income, median monthly housing costs, housing costs as a percentage of income, entertainment, and civic establishments per 10,000 residents, percentage of people without health insurance, average commute time, unemployment rate, and the poverty rate." Basically, they thought of everything.
According to those findings, families pocketing $60,000 annually are less likely to be burdened by housing costs. They should be good to "comfortably afford housing costs in cities where the median household income ranges from $55,000 to $65,000." So where are these places? Where should we (mostly, me) be moving? Unsurprisingly, seven of the top 10 destinations fell in the Midwest. Iowa, Missouri, South Dakota, and Wisconsin were represented -- in fact, Wisconsin took three spots on the list:
Appleton, Wisconsin
Billings, Montana
Cedar Rapids, Iowa
Sioux Falls, South Dakota
St. Charles, Missouri
Eau Claire, Wisconsin
Waukesha, Wisconsin
Rogers, Arkansas
Portland, Maine
Sioux City, Iowa
And while, sure, moving to Iowa or Montana isn't for everyone, spending the bulk of your income on 500sqft studio isn't for others. Guess it's all about compromise ¯\_(ツ)_/¯.
Sign up here for our daily Thrillist email and subscribe here for our YouTube channel to get your fix of the best in food/drink/fun.
Megan Schaltegger is a staff writer at Thrillist. Follow her @MegSchaltegger.