As alluring as New York, San Francisco, Los Angeles, and a number of other world-class US cities are, the cruel reality is that hemorrhaging money is one of the conditions to living in them. They can be wildly expensive on all fronts. That's not to say there aren't plenty of other popular places around the country where your cash goes further. Take, for instance, this brand new list of American cities where you can get the most bang for your buck.
To prove not every hotspot in America is set up to drain your bank account, the team at financial advice site SmartAsset decided to look into which cities are the most undervalued in the country in an effort to see where you can get the most bang for your buck. To do that, they looked at 189 of the most populous American cities, then measured them using a variety of nine different metrics, ranging from the home value per square foot and unemployment rate, to the average days of precipitation per year and concentration of dining and entertainment establishments. They ranked the cities with the best scores accordingly.
Topping the list as the most undervalued in 2019 is Pittsburgh, Pennsylvania followed closely by Newark, New Jersey, with New Haven, Connecticut taking the No. 3 spot. Here's the full ranking of the top 25.
25. Chula Vista, CA
24. Norfolk, VA
23. Ann Arbor, MI
22. Midland, TX
21. Milwaukee, WI
20. El Paso, TX
19. Athens, GA
18. Plano, TX
17. Overland Park, KS
16. Albuquerque, NM
15. Syracuse, NY
14. Torrance, CA
13. Amarillo, TX
12. Bridgeport, CT
11. Hartford, CT
10. Allentown, PA
9. St. Louis, MO
8. Charleston, SC
7. Chicago, IL
6. Providence, RI
5. Baltimore, MD
4. Philadelphia, PA
3. New Haven, CT
2. Newark, NJ
1. Pittsburgh, PA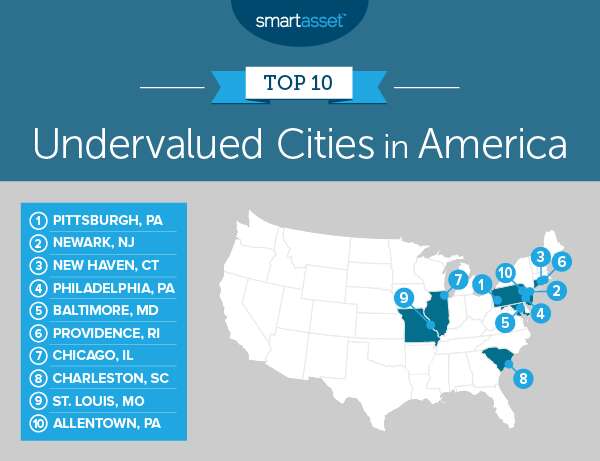 You'll notice a majority of the cities that made it into the top 10 are on the East Coast or Midwest. They're not just second-tier cities, either, considering it includes Chicago, the country's third biggest in terms of population. Also, it appears that many of the locales in this year's list consistently prove themselves to be undervalued. This is the second time that Pittsburgh has earned the No. 1 spot, while eight of the those in the top 10 this year have ranked similarly before.
As you might expect, a number of the cities listed above are also particularly affordable for both first-time home buyers and renters looking to live alone. So, if you've been waiting for a sign to test the waters in a place where you can actually live well without going broke, this may be it.

Sign up here for our daily Thrillist email and subscribe here for our YouTube channel to get your fix of the best in food/drink/fun.