You Get a Free Chicken Sandwich Because This Chain Wants You to Give Them a Try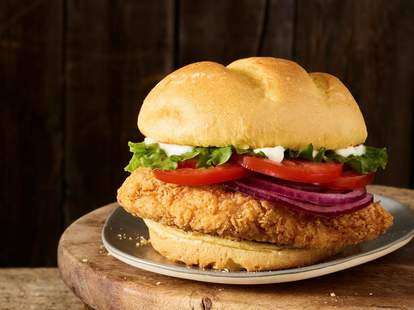 Like Dilly Dilly and Zubaz before it, the Great Chicken Sandwich War of 2019 feels like it should have gone the way of the unicorn but, somehow, it's alive and well. Popeyes made it a thing, and there isn't a chain out there willing to let it go. Everyone wants to be the next Popeyes.
In hopes of attaining that status (and your hard-earned chicken sandwich dollars), Jack in the Box offered a free chicken sandwich around the holidays and now Smashburger is going to do the same with a some subtle Chick-fil-A shade. On January 12, you can get a free Crispy Chicken Smash at Smashburger with the purchase of a Double Burger. Like Popeyes, Smashburger is taking advantage of Chick-fil-A's policy of closing up shop on Sundays by offering its freebie on a Sunday. 
The chain isn't as well-known as some with golden arches outside or a snarky Twitter account, but it wants you to give its newly reworked chicken sandwich a go. It's basically the same as before except much bigger. In fact, Smashburger says it's 70% bigger. (That may say more about the size of the old one than the new one.)
It's going to take a hell of a sandwich to breathe fresh life into the sandwich war that has been decidedly won by Popeyes. But, if you think this sandwich is that good, you'll be glad you got the first one on the house. 
Sign up here for our daily Thrillist email and subscribe here for our YouTube channel to get your fix of the best in food/drink/fun.