You Get a Free Fish Sandwich Because This Chain Wants You to Give Them a Try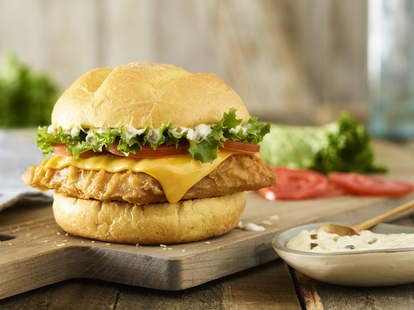 With the approach of Lent, the battle of fish sandwiches has begun, and it looks a bit like the chicken sandwich wars that Popeyes started with its Fasties-winning banger. Everyone from Arby's to Bojangles and Joella's Hot Chicken is bringing out a new fish sandwich, and the chains are even getting nasty. Arby's has been trolling the McDonald's Filet-O-Fish to introduce its Fish N' Cheddar. 
Like with its chicken sandwich, Smashburger will give you a freebie to give their new sandwich a try. It has launched its first-ever fish entrée with the Beer Battered Pacific Cod Sandwich. The cod is dipped in a batter infused with Yuengling Lager, then covered in melted American cheese, lettuce, tomato, and tartar sauce. If that sounds good, stop in on February 26 to take advantage of a buy-one-get-one-free deal on the Pacific Cod Sandwich.
The deal, of course, has the classic "participating locations" caveat. So, it's worth calling ahead to make sure you're going to be leaving your local shop with a free sandwich in a bag or your belly.
"At Smashburger, we're always looking for ways to surprise our guests with innovative flavor combinations and new offerings," Carl Bachmann, president of Smashburger, says. "While many of our guests are burger and chicken lovers, we're eager to offer them an alternative when seafood is on the mind."
Worst case scenario, you get to dig into some of Smashburger's above-average sides like the sweet potato fries or the rosemary, garlic, and olive oil SmashTots.
Sign up here for our daily Thrillist email and subscribe here for our YouTube channel to get your fix of the best in food/drink/fun.