Some Asshole Mailed a Box Full of Live Killer Snakes and Spiders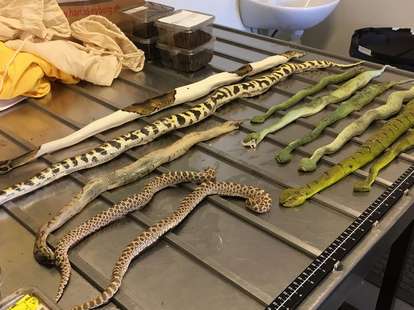 Sometimes a mystery box contains a gift, and sometimes it holds venomous snakes, spiders, and scorpions. The Australian Border Force found several of these critters still alive in a package marked "2 pair shoes" shipped from Northern Europe this week. After scanning the contents of the package with an x-ray, the authorities held it at customs. Itemizing the contents at the border, they found:
3 ball pythons, also known as royal pythons
2 hognose snakes
6 venomous Wagler's temple vipers, a species native to South-East Asia
2 Colombian giant tarantulas
5 Mexican redknee tarantulas
2 Brazilian salmon pink tarantulas (the 3rd-largest tarantula in the world)
4 Asian forest scorpions
All of the animals that didn't die in transit had to be euthanized at the border because, per Australia's Department of Agriculture and Water Resources, they present a serious "biosecurity risk." Basically that means there's no way to account for disease, pests, or other havoc that these non-indigenous creatures could wreak on Australia's ecosystems.
Suffice it to say, sending any exotic, rare, poisonous (or really any non-indigenous) animal to a foreign country in a box...isn't a smart idea. Sending 24 of them is a shit-for-brains move. Neither the sender nor the intended recipient have been named, however, but someone out there probably deserves all the lashings Australia can fling at them.
Cue the chiding statement from Lyn O'Connell, who's in charge of biosecurity in the land down under's Department of Agriculture and Water Resources: "Anyone who claims to be an animal lover and conceals reptiles or arachnids in small packages and sends them through the mail does not have the best interests of the animals -- or Australia -- at heart."
Sign up here for our daily Thrillist email, and get your fix of the best in food/drink/fun.