Snapchat Is Finally Fixing the Redesign Everyone Hates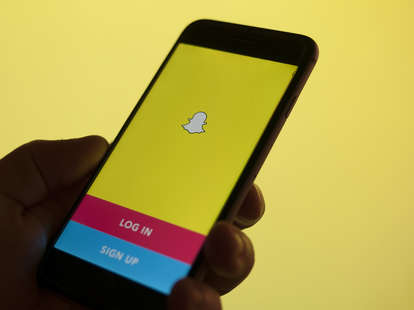 After months of public outrage, the ire of both Kylie Jenner and Rihanna, and a slow exodus from the app, it looks like Snapchat is attempting to regain public approval by fixing its much-maligned redesign. When that new design appeared, it was almost instantaneously decried as an attempt to cater to advertisers at the expense of users, and those users have been exiting Snapchat ever since.
But Snapchat now seems to be reconsidering separating your interactions with your friends from your interactions with celebrities and brands. The userbase apparently liked the feeling of having Kardashians mixed in among the normies, so your friends' stories will again be displayed on the same page as celebrity stories. This may sound like a small thing, but it was a big deal to users and splitting them up made the whole app experience disjointed. According to Business Insider Snapchat is testing another new design that brings your friends' stories back to the app's discover page and it will eventually roll out to everyone.
Things won't be exactly like they were during the halcyon days of a few months ago, but the app will look more like the one you fell in love with/like well enough to use while waiting for a bar's bathroom. Stories will be on the same page but they'll live in separate feeds, so aspects of the design will remain the same.
"With this test, we're retaining that idea [of separating friends and publishers]," a spokesperson told Recode, "but bringing back one place for talking and one place for watching -- organizing around users' behavior, not just relationships."
Let's hope this moves past the testing phase soon so we can all get back to pretending we're best friends with Kim Kardashian again.
Sign up here for our daily Thrillist email and subscribe here for our YouTube channel to get your fix of the best in food/drink/fun.