SNES Classic Pre-Orders Are Already a Disaster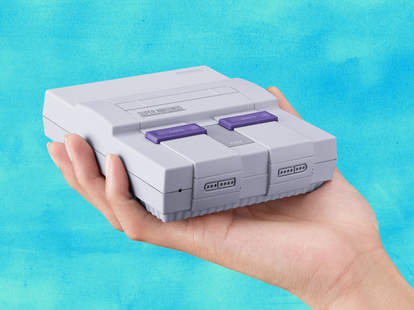 When Walmart started accepting pre-orders for Nintendo's nostalgia-inducing SNES Classic Edition last Friday night, the excitement was palpable. Nintendo diehards, who had been yearning for the much-hyped mini-console since it was announced last month, flooded Walmart's website to place their orders.
Except there was one glaring problem: Walmart's product page was promising goods that it couldn't actually deliver. Today, the mega-retailer confirmed that all pre-orders placed last Friday have been cancelled, acknowledging to various customers in an email that the page went live prematurely, reports The Verge.
Deserie Dulaney, the senior director for customer care at Walmart, likened the massively disappointing event to a website snafu, writing in the email: "Unfortunately, due to a technical glitch, the Super Nintendo Classic Edition was mistakenly made available last Friday evening ahead of the official release date...We, regrettably, will have to cancel this item on your order."
The outrage is coursing throughout video game Twitter, as a lot of people are understandably frustrated:
Hey @Walmart your technical glitch is NOT my problem. You WILL honor my SNES Classic preorder.

— Roland (@RagingNinjaGeek) July 26, 2017
Welp, my SNES classic preorder was canceled, so I guess that's gg.

— jennifer. (@jenohfour) July 26, 2017
@walmarthelp I received an email saying my SNES classic preorder will be cancelled. Why penalize customers for an error your company made?

— Sass Master Sam (@TheDarkStorm13) July 26, 2017
Video game journalist Chris Kohler posted a screenshot of Walmart's email to customers:
As the email notes, people haven't been billed for the non-existent purchase, but they're still not getting what they originally asked for. The SNES Classic allayed much of the disappointment that followed the cancellation of the NES Classic, which promptly sold out in minutes due to limited stock. As the NES Classic proved to be one of the most coveted throwback consoles ever released, the SNES Classic is definitely poised to make similar waves throughout the gaming world.
While Walmart deals with the blowback from its fateful technical glitch, customers can take solace in the fact that the SNES Classic will eventually hit the market on September 29, promising 21 original Super Nintendo games for the cool price of $80. By September 30, we imagine supplies will have diminished plenty.
[h/t The Verge]
Sign up here for our daily Thrillist email and subscribe here for our YouTube channel to get your fix of the best in food/drink/fun.
 
Sam Blum is a News Staff Writer for Thrillist. He's also a martial arts and music nerd who appreciates a fine sandwich and cute dogs. Find his clips in The Guardian, Rolling Stone, The A.V. Club and Esquire. He's on Twitter @Blumnessmonster.