Quick, You Can Pre-Order the SNES Classic from GameStop Right Now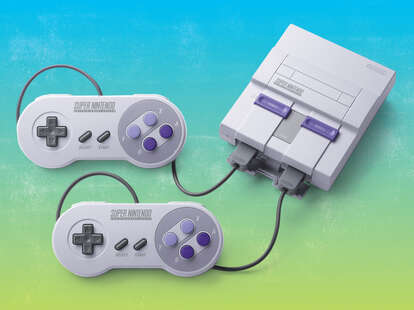 Maggie Rossetti/Thrillist
UPDATE: As of Tuesday afternoon, it looks like pre-orders of the SNES Classic Edition are sold out at most retailers, if not across the board.
Nintendo teased retro gaming fans on August 1, when it announced that pre-orders for the SNES Classic Edition would start sometime "late this month." Well, it looks like that time has finally arrived now that GameStop and other retailers are opening early sales of the nostalgia-inducing console. Get your damn credit card ready.
On Tuesday, GameStop announced it is opening pre-orders for the device at 1pm Eastern Time. The gaming store chain is offering the chance to order individual units of the SNES Classic at all of its physical locations or as part of five different bundles via its online store, a spokesperson said. All you have to do is put down a $25 deposit for the $80 console and you'll be able to get your hands on it when it officially launches on September 29. Oh, and you'll have to move fast as hell because — like the NES Classic Edition last year — they'll likely sell out in just minutes.
In fact, it looks like both Amazon, Best Buy, and other stores quietly offered SNES Classic pre-orders early on Tuesday morning before they sold out in as little as 20 minutes:
The SNES Classic comes with two controllers and 21 built-in games that you probably haven't played since the '90s, including Donkey Kong Country, Final Fantasy III, Super Mario Kart, and Star Fox 2, the sequel to the original Star Fox that was never released. The system also sports a game-changing new "Rewind" feature (shown in the video below) that lets you retry tricky sections of some games and run through areas again to pick up items you may have missed the first time, according to a press release.
With any luck, more pre-orders will open soon and more SNES Classics will be available on launch day. Earlier this month, Nintendo promised more stock of the retro system, saying in a statement, "a significant amount of additional systems will be shipped to stores for launch day, and throughout the balance of the calendar year." But considering how maddeningly difficult it was to get an NES Classic during the holidays last year, you'll probably still have to fight to get one of the damn things before they're gone. Or at least be crazy fast, like Bowser in Mario Kart.
In the meantime, you can play the significantly less fun game of trying to score a pre-order. It's on like Donkey Kong.
Sign up here for our daily Thrillist email and subscribe here for our YouTube channel to get your fix of the best in food/drink/fun.

Tony Merevick is Senior News Editor at Thrillist and is sooooo ready. Send news tips to news@thrillist.com and follow him on Twitter @tonymerevick.