SNES Classic Is Basically Sold Out Everywhere, But Don't Turn to Auctions Quite Yet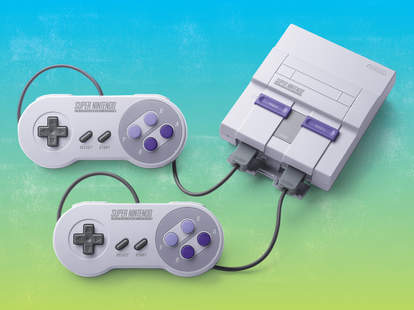 maggie rossetti/thrillist
If you were hoping to lock down an SNES Classic -- Nintendo's all-in-one Super Nintendo console with 21 games -- at the going price of $79.99 on Friday, you may have been in for a crappy surprise. Like the NES Classic before it, the SNES Classic is basically sold out everywhere.
Last month, Reggie Fils-Aimé, president of Nintendo of America, assured Nintendo lovers they shouldn't have to pay more than retail price on auction sites to get their hands on the console. Those assurances came after a couple preorder snafus that made it look like fans were in for a repeat of the frustrations they faced with the NES Classic, which was nearly impossible to get unless you paid a premium on auction sites like eBay.
Fils-Aimé told the Financial Times that Nintendo "dramatically increased" production of the SNES Classic based on the overwhelming demand for the NES Classic. "I would strongly urge you not to overbid on an SNES Classic on any of the auction sites," Fils-Aimé said. "You shouldn't [have to] pay more than $79.99."
EBay told Forbes SNES Classics were selling at about four units per minute the day of the console's launch. It also said the average price was $165, more than double retail price.
However, there's no need to panic if you absolutely have to get your hands on a console. "Customer demand for the SNES Classic was just like we expected," said Bob Puzon, senior vice president of Merchandising for GameStop. "We sold out of our SNES Classic inventory within minutes in both our GameStop and ThinkGeek retail channels. But customers shouldn't worry. We're getting more very soon."
It's not clear how many more SNES Classics will become available, but it's probably worth avoiding the auction sites. More are on the way. They'll probably go fast, but, for now, there's no reason to pay double for the little box when an opportunity to pay a lower price on a new unit could be just around the corner.
Sign up here for our daily Thrillist email, and get your fix of the best in food/drink/fun.