SNES Classic Pre-Orders Delayed by Amazon and Customers Aren't Happy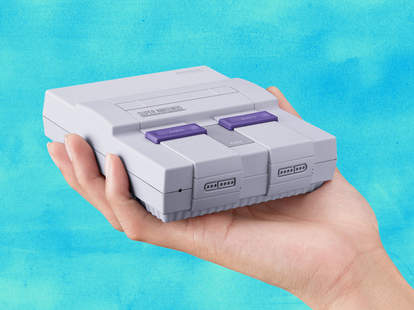 The disastrous rollout of Nintendo's SNES Classic continues apace. One month after Walmart cancelled a glut of pre-orders for the nostalgia-baiting console, Amazon notified customers yesterday that its own early shipments are experiencing delays. In an email sent to customers, the e-commerce giant explained that its "working hard to ensure that you get this item as soon as it is in stock."
The lauded console retails for $80 and packs 30 built-in games such as Donkey Kong Country, Final Fantasy III, Super Mario Kart, and Star Fox 2, the unreleased sequel to the '90s staple, Star Fox. Gaming aficionados are understandably eager to get their hands on one, and the Amazon snafu only increases the tension leading up to the SNES Classic's September 29 release. 
So naturally, customers are peeved and expressing their impatience on the internet's eternal echo-chamber, Twitter:
How many people selling pre orders of #SNESClassic just got that email from Amazon canceling multiple orders? You guys suck @amazon

— Rick M (@jstanotherant) August 26, 2017
TFW you get an in-stock alert from @Amazon and think it's an SNES Classic and it turns out to be thermal socks. 😣

— Greg Bilsland (@gregbilsland) August 26, 2017
Got an email from @amazon that my #SNESClassic delivery will probably be delayed. Doesn't this defeat the purpose of preordering?

— Lord Bobby Conner (@LordBobbyConner) August 25, 2017
Amazon emailed me to let me know that I *will* receive an SNES Classic, but it's probably gonna be a few days late. Ok.

— Pugchop Jones (@nicknewt) August 25, 2017
Amazon, typically known for reliability, hasn't exactly handled its supply of SNES Classics with its trademark poise. Along with Best Buy, the company initially opened pre-order sales for the console in the middle of the night, while many people were asleep. Demand was strong enough, though, as multiple retailers still sold out within a matter of minutes. 
As noted in the email, Amazon is still expected to fulfill all pre-orders, so the key takeaway is to remain calm. But judging by the chaotic release of Nintendo's NES Classic, which basically disappeared from the market after selling out literally everywhere, there might be more issues on the horizon.
[h/t Gamespot] 
Sign up here for our daily Thrillist email and subscribe here for our YouTube channel to get your fix of the best in food/drink/fun.
 
Sam Blum is a News Staff Writer for Thrillist. He's also a martial arts and music nerd who appreciates a fine sandwich and cute dogs. Find his clips in The Guardian, Rolling Stone, The A.V. Club and Esquire. He's on Twitter @Blumnessmonster.