It Freaking Snowed in the Sahara for the First Time in 37 Years and the Photos Are Beautiful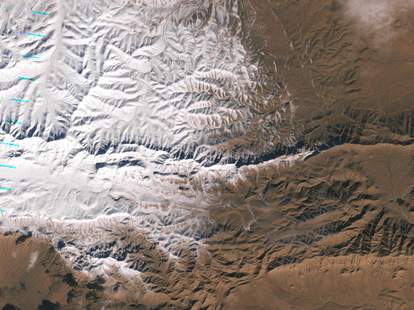 The Sahara might bring to mind beautiful images, but it certainly doesn't make you think of snow. There's a good reason for that. It hasn't snowed in Africa's largest desert in 37 years.
Well, it happened on Dec. 19 and NASA Landsat 7 satellite captured the fleeting moment when snow dusted the Sahara. The satellite images come from an area in the northern part of the desert along the Moroccan-Algerian border and the Algerian city of Ain Safra, known as the gateway to the Sahara.
Snowfall here may be uncommon, but historical data shows that the temperature frequently hits the 30s in December and January, according to Snopes. That's cold enough to allow for snow, even if it's exceedingly rare.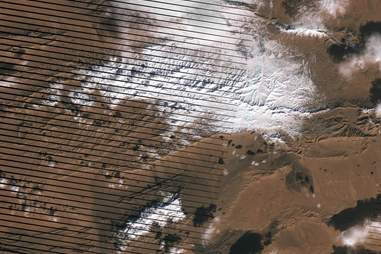 NASA
Across the African continent, snow isn't entirely uncommon. Regions of South Africa and high altitudes like Mount Kilimanjaro see snowfall regularly.
The last measurable snowfall in this particular region was in 1979 when, as Gizmodo's George Dvorsky reports, it snowed for a whole 30 minutes. He also says there was a brief dusting in both 2003 and 2005.
Even better, photographer Karim Boucheta was in the right place at the right time and captured the snowfall on the region's distinctive orange dunes.
h/t Business Insider
Sign up here for our daily Thrillist email, and get your fix of the best in food/drink/fun.
Dustin Nelson is a News Writer with Thrillist. He holds a Guinness World Record but has never met the fingernail lady. He's written for Sports Illustrated, Rolling Stone, Men's Journal, The Rumpus, and other digital wonderlands. Follow him @dlukenelson.