Snyder's Is Unleashing a Pretzel-Infused Beer for Oktoberfest
SnyderBier is here.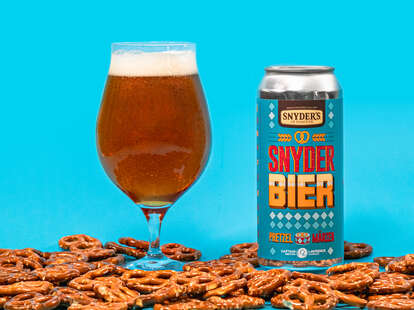 Courtesy of Snyder's of Hanover
Munich has canceled its annual beer celebration Oktoberfest for the second consecutive year thanks to rising COVID numbers. That doesn't mean you can't toss on some lederhosen and pour that lager for yourself. In fact, that's exactly what Snyder's of Hanover is hoping you'll do.
In partnership with Captain Lawrence Brewing Company, the snack maker made a first-of-its-kind pretzel-infused beer for Oktoberfest. The four packs of SnyderBier, in Märzen and Frücht flavors, are available for purchase directly on the site.
"With the possibility that Oktoberfest events may need to be cancelled or move to virtual for a second year in a row, we wanted to give consumers an easy way to bring the spirit of the festival home," Director of Marketing Rachel Sasser said in a press release. "The mixture of our slow-baked pretzels with Captain Lawrence's refreshing brew is guaranteed to make you want to celebrate Oktoberfest from wherever you are."
Now let's talk about what to expect. The Märzen is a malty lager style with notes of Snyder's of Hanover's classic slow-baked mini pretzels, while the gose-style Frücht ale boasts a more sweet-and-savory balance with pretzels, passion fruit, and guava.
"Our team at Captain Lawrence loves the challenge of pushing the boundaries to create new and exciting flavors our fans will love, so when Snyder's of Hanover reached out to take our partnership a step further, we said game on," Captain Lawrence Founder and Brewmaster Scott Vaccaro added in the release.
Megan Schaltegger is a staff writer at Thrillist.