Celebrating Soccer Fan Somehow Manages to Kick His Own Team's Player in the Balls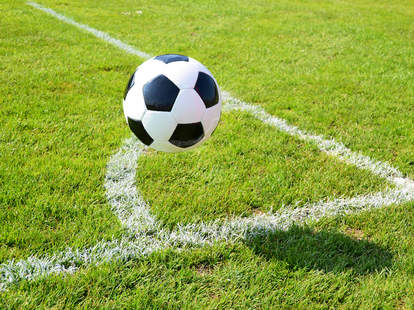 Soccer may still be lost on many Americans, but everyone can understand getting a little carried away when your team wins, no matter the sport. If you're not a sports fan at all, we're sure you can at least understand trying to take part in something you're excited about and somehow bringing about the most embarrassing outcome imaginable. This is a clip of exactly that. (The magic happens at around 18 seconds in.)
What you're witnessing is a fan descending from the stands in a fit of jubilation and promptly kicking one of the players he's celebrating in the balls. Not since Sophocles has irony been this deftly and tragically deployed.
According to Deadspin, this was a British soccer match between Charlton Athletic and Accrington Stanley. In its 93rd minute, Karlan Grant of Charlton scored a penalty shot and won his team a 1-0 victory. Everyone was thrilled, clearly. It was late in the match. People were doing sports. The ball was in the net, or something.
But what makes this event of interest to the public is when everyone started rushing onto the field to celebrate. At that point, the wretched protagonist of this one-act play ran toward his beloved, victorious team -- but, as he is not a professional athlete, slipped and humiliated both himself and one of the men he meant to congratulate.
That unlucky footballer was Krystian Bielik, a player on loan from Arsenal. He doesn't seem thrilled by this turn of events, considering the writhing on the ground.
The fan then disappears into the stands, like none of it ever happened. What else could he have done?
h/t Deadspin
Sign up here for our daily Thrillist email and subscribe here for our YouTube channel to get your fix of the best in food/drink/fun.