Sonic's New Fried Cookie Dough Bites Are Hitting Menus Soon
The chain's fan-favorite Broccoli Cheddar Tots are back too!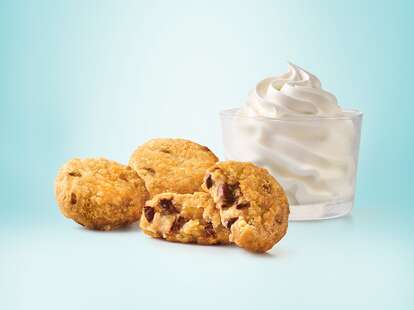 Courtesy of Sonic
Courtesy of Sonic
I love a hunk of cookie dough as much as the next, but you know what I don't love? Salmonella. Luckily, Sonic is adding a safe-to-eat version to menus—and it's fried. Along with the return of its fan-favorite Broccoli Cheddar Tots, the drive-in chain is introducing Fried Cookie Dough Bites.
Both the Broccoli Cheddar Tots and Fried Cookie Dough Bites are hitting menus on September 26 and sticking around through November 27. But if you really can't wait that long (I get it!), Sonic is offering app users an exclusive first taste on September 19.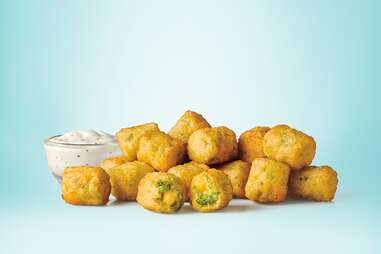 The Fried Cookie Dough features chocolate chip cookie dough fried into golden brown bites. The outside is crispy, with a warm, gooey center. They're even served with a side of real ice cream for dipping. Meanwhile, the beloved Broccoli Cheddar Tots include the veggie with melty cheddar cheese in a tot-sized crispy coating.
Sonic has been keeping us well fed over the last few months. In fact, in August, the chain rolled out a Summer Snacking Menu that started at just $1.49. The in-app exclusive includes 5-piece Churros, Fritos Chili Cheese Wrap, a Chocolate Waffle Cone, and Soft Pretzel Twist—all of which are still available.