Sonic Is Adding Pickle Juice-Flavored Slushies to Its Menu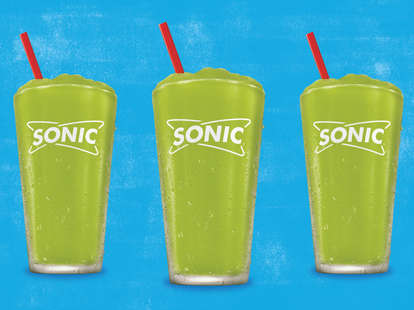 There's nothing like sucking down an ice cold slushie on a hot summer's day. And for decades, Sonic's been hawking a whole bunch of sweet and icy-smooth options on its menu -- from Blue Raspberry to Strawberry, and even "Blue Coconut with Popping Candy." Now, it's branching out into brand new frozen beverage territory by adding a pickle juice-flavored Snow Cone Slush to the mix.
Before you recoil at the mere thought of drinking some salty frozen brine, apparently it's actually pretty good.
The fluorescent green-colored beverage is part of the drive-in chain's new Snow Cone Slushes lineup, which will roll out at Sonic locations nationwide in June. Other Snow Cone Slush flavors in the summer lineup will include Bahama Mama, Blue Hawaiian, and Tiger's Blood, according to FoodBeast.
While Thrillist hasn't had a chance to taste test the pickle-flavored treat yet, the folks at Food & Winehave, and they gave it a pretty positive review. Specifically, they described it as "surprisingly delicious" and as having more of a sweetness than a tang to it (so a big 'ol frozen pickle back shot it is not).
The drink's arrival comes in the midst of a pickle juice moment, if you will. The briny green dregs left from pickling has become somewhat of an "it" beverage as of late. It's been hailed as a legitimate Gatorade-replacement for athletes, been soda-fied, and now even Walmart is selling pickle-flavored ice pops.
It's tough to imagine that a pickle-flavored slushie is going to provide the same sort of refreshment for most diehard sweet-toothed Sonic fans, but then again, it could just be the perfect pairing with a burger and fries.
h/tFood & Wine
Sign up here for our daily Thrillist email and subscribe here for our YouTube channel to get your fix of the best in food/drink/fun.