Sony Is Giving All PlayStation 4 Owners 2 Free Games. Here's How to Get Them.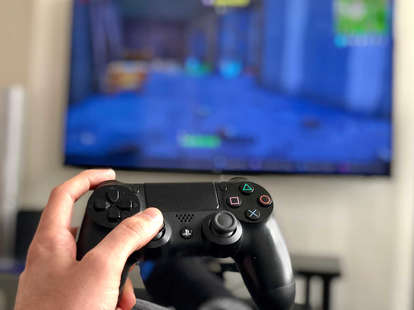 Staying indoors and avoiding unnecessary contact with others means we've got more time to catch up on Netflix shows, flex our baking muscle, and try our hand at new video games. And now, the latter's never been easier. PlayStation 4 owners are about to score two games for free.
Sony is gifting users both Journey and Uncharted: The Nathan Drake Collection for free on PS4. And once you've redeemed the freebie (I'll get to the how momentarily), the games are yours to keep. The promo kicks off on April 15 at 8pm PDT and will run through May 5, 2020 at 8pm PDT, and is valid for all users -- not just those exclusive PlayStation Plus subscribers, according to the official PlayStation blog. You just need the most recent gaming system and an internet connection.
MORE: These multiplayer game apps let you host virtual game night.
Now for the important details: how to get your hands on the games. Turn on your PS4, navigate over to the PlayStation Store, and tap the search bar (if you don't spot the promo image right there on the homepage, that is). Just add one or both games to your library and download 'em when you're ready to play.
"We are deeply grateful to everyone practicing physical distancing and take our responsibility as a home entertainment platform seriously, so we are asking our community to continue supporting the safe choice and the need to Play At Home," President and CEO for Sony Interactive Entertainment Jim Ryan said in a statement, per the blog post. "As a thank you to all who are doing their part to lessen the impact of this pandemic, Sony Interactive Entertainment is pleased to announce the Play At Home initiative."
MORE: The PlayStation 5's New Controller Unleashed a Hilarious Meme
h/t Business Insider
Sign up here for our daily Thrillist email and subscribe here for our YouTube channel to get your fix of the best in food/drink/fun.
Megan Schaltegger is a staff writer at Thrillist.