Sony Is Releasing a Mini PlayStation Classic With 20 Pre-Loaded Games
Just when you thought everyone had left Nintendo to dominate the retro console market with its NES Classic, SNES Classic, and rumored N64 Classic editions, Sony is finally getting in on the nostalgia party with its own miniature console. To the delight of '90s kids everywhere, the company is unleashing what's aptly dubbed as the PlayStation Classic this December -- nearly 25 years after it launched the PlayStation.
Sony officially announced the new console on Tuesday, saying it will come pre-loaded with 20 "legendary" classic PlayStation titles when it arrives in stores just in time for the holiday shopping season on December 3. The tiny console looks just like the OG Playstation (even the controllers and packaging), but is 45% smaller and, of course, doesn't sport an actual disc drive. Sony claims that all of the included games will be playable in the original PS1 formats. The console connects to your TV via an HDMI cable, and it'll come with two controllers for multiplayer game support as well as a USB cable.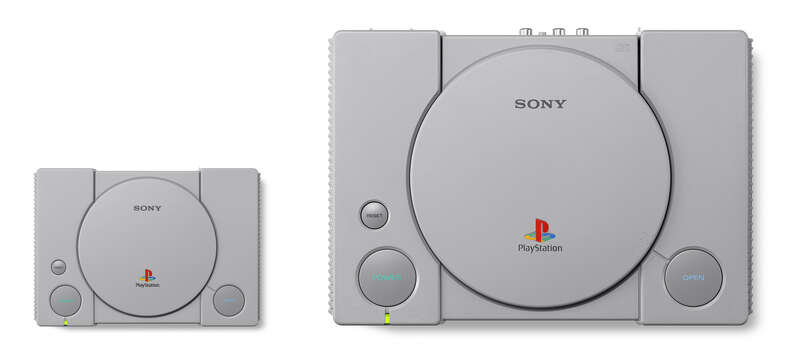 As for the price, Sony said the PlayStation Classic will set you back $99, which is a whopping $20 more than Nintendo's SNES Classic Edition for about the same number of games (the SNES Classic comes with 21). Speaking of the pre-loaded games, the company has only revealed five of the 20 titles so far: Final Fantasy VII, Jumping Flash, Ridge Racer Type 4, Tekken 3, and Wild Arms. It plans to announce the full lineup of games via its blog in the coming weeks.
Although it's probably a bit early to speculate about what availability will be like, Sony will hopefully provide a better supply of the devices than Nintendo has with its retro consoles. The company said retailers in the United States and Canada will offer pre-orders for the PlayStation Classic, which is promising. Keep your eyes peeled for info on that.
Sign up here for our daily Thrillist email and subscribe here for our YouTube channel to get your fix of the best in food/drink/fun.