Southwest Airlines' Huge Cyber Monday Sale Has $39 Flights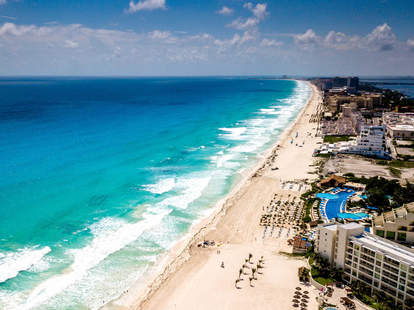 Michal Wegrzyn/Shutterstock.com
Never mind that winter has barely begun, I'm in hibernation and leaving my apartment on a necessities only basis -- like for work, Black Friday sales, and to restock my wine supply. And while, thus far, I'm surviving, I need a warm weather vacay to keep it that way.
Luckily, Southwest is doing what Southwest does best. From now through Tuesday, December 5, at 11:59pm, you can score stupidly cheap plane tickets in honor of Cyber Monday. The budget-friendly carrier is offering one-way flights for as little as $39. And though, per usual, there are stipulations, I'd say the positives outweigh the date restrictions by a lot. Along with the carrier's usual domestic flight deals, the sale includes travel to Cancun, Turks & Caicos, Punta Cana, and more. We pulled some highlights (listed below) from the official sale page to give you a sense of what to expect.
The best Southwest flight deals:
Honolulu to Maui for $39
Greenville, SC to Atlanta for $49
Atlanta to Nashville for $49
Long Beach to San Jose for $54
Oakland to Lake Tahoe for $59
Ontario to San Francisco for $59
Providence to Washington, DC for $59
San Diego to Las Vegas for $64
The best Southwest international flight deals:
Fort Lauderdale to Turks & Caicos for $79
Fort Lauderdale to Grand Cayman for $86
Fort Lauderdale to The Bahamas for $97
Orlando to The Bahamas for $109
Fort Lauderdale to Cancun for $113
Orlando to Havana Cuba for $129
Tampa to The Bahamas for $123
Baltimore to The Bahamas for $136
Now for the
less-than-fun info: Continental US travel is available between December 16, 2019 through May 20, 2020. Inter-island Hawaii travel is valid between January 7 and May 20, 2020. If you're booking to or from San Juan, Puerto Rico, January 13 through March 5, 2020 and April 14 through May 14, 2020 are available. Lastly, International travel can be booked between January 7 and March 5, 2020 and April 14 through May 14, 2020. Blackout dates still apply.
Scroll the list of destinations (you can sort the deals by origin city) here, but don't hold me responsible when you drain your bank account on flights.
Sign up here for our daily Thrillist email and subscribe here for our YouTube channel to get your fix of the best in food/drink/fun.
Megan Schaltegger is a staff writer at Thrillist. Follow her @MegSchaltegger.