Flight Attendant Kindly Bewilders Passengers From Her Spot in an Overhead Bin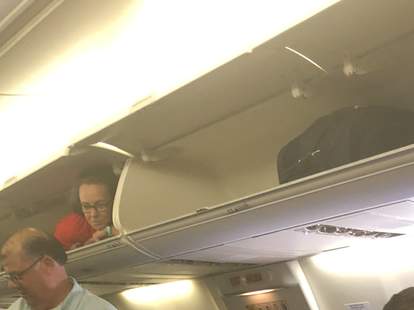 Take Xanax, they said. It'll help you get over your fear of flying, they said. Well, first-time Xanax users on Monday's Southwest flight to Atlanta were likely filled with regret when they realized they might be hallucinating something unusual during onboarding: a flight attendant greeting passengers from an overhead bin. Turns out it wasn't a drug-induced vision, it was a prank. 
The video, posted on Twitter by Veronica Lloyd, shows a fully uniformed flight attendant haphazardly rolling around in her elevated chambers, peering out at passengers with that good ol' Southwest charm. 
"She was up there for about five minutes," said Lloyd, according to a news report. "More than half the flight was boarded before she got down." 
Though Lloyd mentioned that she found the stunt hilarious, she also requested that the company "get it together."
Southwest Airlines defended its prankster.
"Southwest Employees are known for demonstrating their sense of humor and unique personalities," the company said in a statement, per the report. "In this instance, one of our Flight Attendants attempted to have a brief moment of fun with Customers during boarding." They tacked on that this is not their normal procedure, and that crews always prioritize safety.
Attempted to have a brief moment of fun, is a familiar sentiment to most working citizens. We get it, ma'am. We just ask that you kindly remain seated with your seatbelt securely fastened while the plane is taking off.
Sign up here for our daily Thrillist email and subscribe here for our YouTube channel to get your fix of the best in food/drink/fun.