Southwest Flight Was Delayed so Employees Held a 'Worst Driver's License' Contest
@SouthwestAir @MCO my flight to Washington DC has been delayed for almost 2 and a half hours and I was getting HEATED until this gate agent started playing games with everyone waiting to pass the time and now I'm like I'll wait all damn night if you keep this up 🤣 #amazing pic.twitter.com/K0WnThxcW6

— Kristen Dundas (@kdunds13) August 23, 2019
There is truly no better time to scrutinize a driver's license photo than when you're clutching your documents at the airport, and Southwest Airlines knows this best: On Thursday, during a flight delay, the airline took advantage of the mutually wretched smiles and washed out complexions in their passengers' pictures, and held a Worst Drivers License contest to pass the time. 
Florida resident Kristen Dundas was less than thrilled while waiting to board her plane at Orlando International.
"My flight to Washington DC has been delayed for almost 2 and a half hours and I was getting HEATED," she tweeted on Thursday, "until this gate agent started playing games with everyone waiting to pass the time and now I'm like I'll wait all damn night if you keep this up."
In the video she posted with the tweet, the Southwest gate agent gets on the intercom and announces a winner.
"Where is she?" he asks, looking around playfully.
Dundas said there was also a paper airplane contest. Winners received $25 vouchers and Southwest merchandise.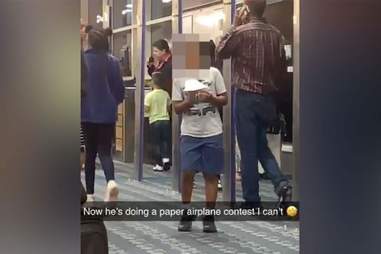 Paper airplane contest

| Kristen Dundas
Sign up here for our daily Thrillist email and subscribe here for our YouTube channel to get your fix of the best in food/drink/fun.