Southwest Flew a Plane Full of Animals Out of Hurricane-Ravaged Houston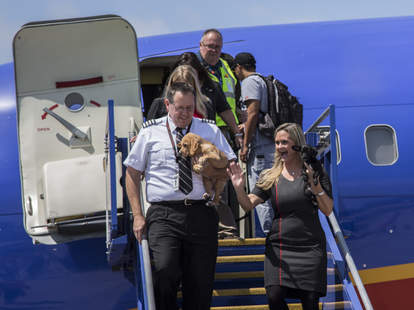 Hurricane Harvey and its devastating floods left millions of victims in its wake, from residents and business owners to much of the land and infrastructure across southeast Texas and Louisiana. That's not to mention the many, many animals — both pets and those already living in shelters — that were left displaced by the catastrophic storm. Fortunately, the good folks at Southwest Airlines found a way to help out dozens of the furry friends by flying a plane full of 'em from Houston to San Diego.
Courtesy of Southwest
To help make room for pets whose owners were left homeless by Harvey, Southwest teamed up with the local organization Operation Pets Alive! to help relocate more than 60 cats and dogs that were living in local Houston shelters when the hurricane hit to the Helen Woodward Animal Center in San Diego. The mission was designed to help make room in and relieve strain on local shelter facilities, which have been inundated with family pets in recent days and weeks.
Courtesy of Southwest
To pull it off, a small team from the San Diego shelter flew to Houston to help pack up the animals, and Southwest donated a plane, fuel, and a flight crew to transport the four-legged passengers to their new home more than 1,400 miles away. Had they not been removed so swiftly, many of the animals risked being euthanized, due to the overwhelming influx of pets, according to Operation Pets Alive!.
While Houston and many of its residents face years of recovery ahead, this is a welcome glimmer of hope.
h/tHuffPost
Sign up here for our daily Thrillist email and subscribe here for our YouTube channel to get your fix of the best in food/drink/fun.