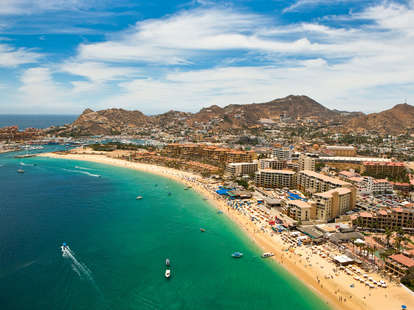 Cabo San Lucas. | Danny Lehman/Corbis Documentary/Getty
I'll take just about any excuse to book a vacation. Work's been stressful? Let's break out the credit card. Milestone birthday? We're logging onto Expedia. Weather's cold? Beach and bikinis it is. But there is no greater rationalization for snagging airfare than one of Southwest's popular nationwide sales (though, to be clear, you should be extra thoughtful before making travel plans due to the coronavirus outbreak).
MORE: Here's what you should know if the coronavirus outbreak is affecting your travel plans.
And from now through March 12 at 11:59pm, you can score seriously cheap flights as part of the budget-friendly carrier's latest promotion. The 48-hour deal, which features one-way tickets starting at as little as $39, includes a bevy of destinations across the US and beyond.
Best domestic flight deals:
Hawaii Island to Honolulu for $39
Houston to New Orleans for $49
Indianapolis to Atlanta for $49
Jacksonville to Nashville for $49
Las Vegas to Los Angeles for $49
Little Rock to Dallas for $49
New York to Atlanta for $79
New York to Nashville for $79
Best international flight deals:
Fort Lauderdale to Turks & Caicos for $79
Fort Lauderdale to the Cayman Islands for $86
Fort Lauderdale to the Bahamas for $97
Orlando to the Bahamas for $109
Fort Lauderdale to Cabo San Lucas for $103
Fort Lauderdale to Cancun for $115
Orlando to Cuba for $129
Tampa to Cuba for $121
Naturally, there are a few restrictions to keep in mind. Continental US travel is only valid between March 24 and June 6, 2020 -- though May 21, May 22, and May 25, 2020 are all excluded from the offer. Travel to and from San Juan, Puerto Rico is available between April 14 and May 14, 2020 and international trips can be booked for April 14 through May 14, 2020. Scroll the all of the discounted destinations and fares here.
If you're worried about cancellation and flight change fees due to the coronavirus outbreak, don't be. Southwest has always allowed these airfare updates free of charge.

Sign up here for our daily Thrillist email and subscribe here for our YouTube channel to get your fix of the best in food/drink/fun.

Megan Schaltegger is a staff writer for Thrillist.