Southwest Airlines Will No Longer Serve Peanuts on All Flights, so Feel Free to Rage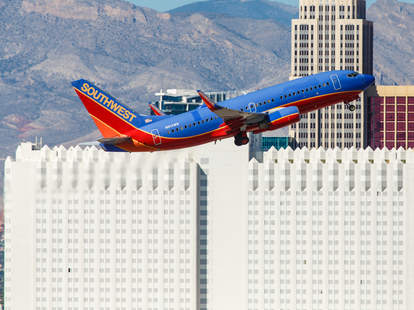 Certain things about air travel are constant: the legroom sucks, your seat is uncomfortable, the specter of death is always looming, but there might be free peanuts to help offset the dread. For some people, the complimentary snacks have presented a silver lining amid all the crappiness, but that's soon about to change for customers of Southwest Airlines: The carrier announced it will no longer serve peanuts on all flights starting August 1.
On Monday, Southwest confirmed that peanuts are getting the sack, and the passenger impulse to rage against injustice has likely never been greater. Southwest is joining a slew of other airlines that have ditched peanuts, citing health concerns. United took a similar bold step in May when it announced a plan to stop serving tomato juice, but quickly walked it back after customer outrage reached an apex. 
Southwest, which came to bear a strong association with peanuts over the years, struck a sentimental tone in a statement.
"Peanuts forever will be part of Southwest's history and DNA," the airline said. "However, to ensure the best on-board experience for everyone, especially for customers with peanut-related allergies, we've made the difficult decision to discontinue serving peanuts on all flights beginning August 1."
A 2017 report published in the Journal of Allergy and Clinical Immunology found that approximately 4% of Americans have a food allergy, while additional research has indicated rising levels of peanut allergies in recent years. Airlines have heeded the research, given the rising possibility of allergy attacks striking passengers at 30,000 feet. 
The airline will continue to serve pretzels and other snacks on longer haul flights, Southwest noted in its statement, providing cheap carbohydrates to those who absolutely need it.
h/tCNBC
Sign up here for our daily Thrillist email and subscribe here for our YouTube channel to get your fix of the best in food/drink/fun.
 
Sam Blum is a News Staff Writer for Thrillist. He's also a martial arts and music nerd who appreciates a fine sandwich and cute dogs. Find his clips in The Guardian, Rolling Stone, The A.V. Club and Esquire. He's on Twitter @Blumnessmonster.