Hurry, Southwest Has $39 Flights Now Through Thursday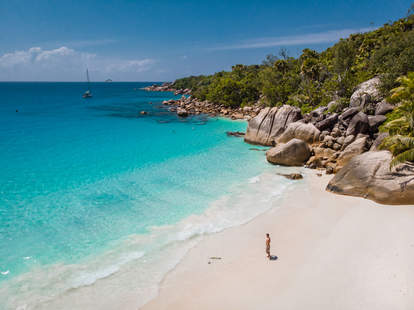 If we're going to believe the whole Groundhog Day schtick, an early spring is headed our way. But unfortunately, I don't have a whole lot of faith that Punxsutawney Phil's shadow means we're getting warmer temps anytime soon. Luckily, Southwest is doing its part to keep us sane and get us through the end of season -- with some seriously cheap flights.
From now through 11:59pm on Thursday, February 27, the budget-friendly carrier is slashing prices on one-way fares across the US and beyond. The sale (check out the official sale page here) features flights for as little as $39 a pop. And they're not tossing you on a plane to the middle of nowhere Idaho, either (sorry, Idaho). Destinations include Chicago, Nashville, New Orleans, even Cancun.
Here are the best flight deals:
Hawaii Island to Honolulu for $39
San Francisco to Los Angeles for $49
Atlanta to Nashville for $54
San Jose to Las Vegas for $59
Tucson to Los Angeles for $59
Chicago to Raleigh/Durham for $69
El Paso to Phoenix for $69
Greenville to Atlanta for $79
Here are the best international flight deals:
Fort Lauderdale to Turks & Caicos for $79
Fort Lauderdale to Grand Cayman for $86
Fort Lauderdale to the Bahamas for $97
Fort Lauderdale to Belize for $103
Fort Lauderdale to Cancun for $115
Houston to Cozumel for $130
Orlando to Belize for $137
Tampa to Grand Cayman for $133
Naturally, there are restrictions. You've gotta travel between March 17 and May 20, 2020 if you're traveling in the continental US or Hawaii while international travel is valid April 14 through May 14, 2020. Here's the bonus, though: no blackout dates. Hurrah! Stay warm!
Sign up here for our daily Thrillist email and subscribe here for our YouTube channel to get your fix of the best in food/drink/fun.
Megan Schaltegger is a staff writer at Thrillist. Follow her @MegSchaltegger.