Southwest Has $49 Flights in a Huge Nationwide Sale This Week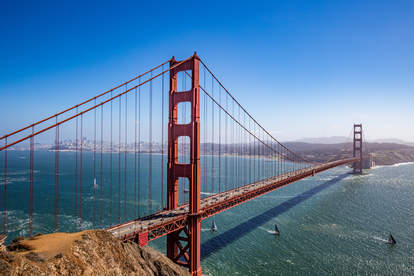 Although most of us are knee-deep in holiday travel madness, there's no reason not to take advantage of a good excuse to plan another vacation for when things settle down. And fortunately, you have one right now, thanks to a Southwest Airlines, which launched a huge three-day sale on Tuesday with tickets as cheap as $49. 
The popular airline's latest blowout fare sale has hundreds of discounted flights between this December and May 2019, with some going for as little as $49, one way. To get in on the deal, you'll need to book by the end of the day on November 22 (Thanksgiving), which pretty much qualifies this as an early Black Friday deal. There are good bargains to be had to and from pretty much every airport the airline services, and you can scope them all out on the official sale page, but here are a few standouts of the bunch.
Here are 10 of the Best Flight Deals
San Francisco to Las Vegas (and vice versa) for $49
Los Angeles to Oakland (and vice versa) for $59
Milwaukee to Nashville (and vice versa) for $60
Providence to Washington, DC (and vice versa) for $60
Atlanta to Nashville (and vice versa) for $65
Portland, Oregon to Los Angeles (and vice versa) for $69
Boston to Atlanta (and vice versa) for $69
Denver to Long Beach (and vice versa) for $72
Chicago to Columbus (and vice versa) for $79
Boston to Chicago (and vice versa) for $86
Southwest has one of the best baggage policies of the bunch, allowing you to check up to two bags for free, but as is the case with many flash sales like this, there's still some fine print to consider before booking. There are a few blackout dates around Christmas and New Year's, and you'll need to be able to travel before May 22, 2019 (though the dates are slightly different if you're headed to Puerto Rico). Still, there are some serious deals to be had, and this may just be the excuse you need to set yourself up for a much-needed getaway once the dreary days of deep winter arrive.
Sign up here for our daily Thrillist email and subscribe here for our YouTube channel to get your fix of the best in food/drink/fun.