Southwest Has $49 Flights Right Now in This Huge, Nationwide Sale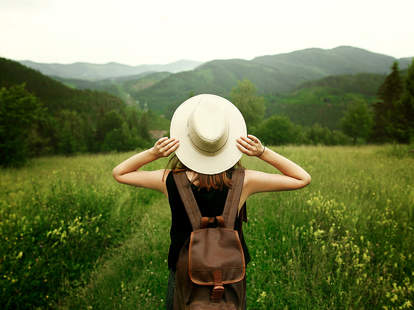 The humidity of summer has finally left us, but it took that whole ambient vacation-feeling with it. That leaves you no choice but to take an actual vacation, which means it's time to get on a plane. Luckily, Southwest Airlines has a seriously great and seriously huge nationwide sale right now, with tickets starting at just $49. Grab yourself a ticket to somewhere that feels like summer.
The sale features deeply discounted one-way fares from more than 80 cities throughout the United States if you book before September 27. As usual, you can make your life easier by sorting through the litany of deals by departure city on the official sale page and quickly find yourself a trip worth taking. For obvious reasons, shorter flights take up most of the cheapest slots, but there are some serious escapes to be had here if you take the time to look around a bit. 
Here are some of the best deals:
San Jose to Las Vegas (and vice versa) for $49
Portland to San Francisco (and vice versa) for $56
Orlando to Ft. Lauderdale (and vice versa) for $58
Las Vegas to Los Angeles (and vice versa) for $59
Providence to Washington, DC (and vice versa) for $60
Phoenix to El Paso (and vice versa) for $69
Baltimore to Cincinnati (and vice versa) for $72
Chicago to Louisville (and vice versa) for $79
Denver to El Paso (and vice versa) for $83
Dallas to Kansas City (and vice versa) for $86
Ft. Lauderdale to New York City (and vice versa) for $94 
Ft. Lauderdale to San Juan, PR (and vice versa) for $98
Keep in mind that because you're getting a bargain there's going to be some fine print. Most of the flights happen between October 9 and March 6, and none of these cheap flights depart on Fridays and Sundays. But that seems like a good excuse to take a little more vacation. The blackout dates also mean that it's unlikely that this will be your Thanksgiving flight. But this is about escaping, not about delivering yourself back to the clutches of family dinner, remember? Also note that Southwest isn't a budget carrier. That means your bags will fly free, and you won't have to pay extra for things like in-flight oxygen.
So, request those vacation days and get booking: You deserve a reward after that Thanksgiving trip.
Sign up here for our daily Thrillist email and subscribe here for our YouTube channel to get your fix of the best in food/drink/fun.