Southwest's Huge, Nationwide Sale Has $49 Flights Through January 3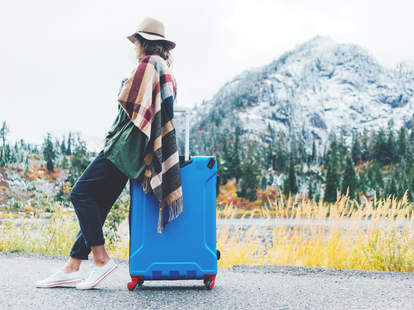 If there's just one thing that will make your impending holiday travel significantly more bearable, it's knowing that you already have a legit getaway lined up to help you recover all the time you'll spend with your family in the Midwest. Thankfully, treating yourself to a post-holidays vacation just got a little easier as of Tuesday, thanks to Southwest Airlines' huge, nationwide sale -- with flights as cheap as $49.
From now through January 3, you can snag discounted tickets to dozens of destinations across the United States from almost every airport where the airline operates. As you can see on Southwest's official sale page, the list of discounted tickets is... extensive (choose your origin city to narrow it down) and even includes more than a dozen different flights for $49, one way. Here are some highlights: San Francisco to Las Vegas (and vice versa) for $49, Milwaukee to Nashville (and vice versa) for $62, Atlanta to Boston (and vice versa) for $69, Los Angeles to Portland, Oregon (and vice versa) for $73, and Chicago to Louisville (and vice versa) for $79, among others.
But before you take advantage of the cheap flights, you should consider the fine print. For one, you have to book before the sale ends on January 3 and book your flights for travel sometime between January 8 and May 22, 2019. However, the discounts exclude flights on Fridays and Sundays, so you'll have to factor that into your plans as well. On the bright side, Southwest has one of the most generous baggage policies and allows you to check up to two bags for free.
The bottom line: getting away for some rest and relaxation after the holidays just got easier, so don't miss out on these deals and similar cheap flights from JetBlue. After all, your sanity may be at stake.
Sign up here for our daily Thrillist email and subscribe here for our YouTube channel to get your fix of the best in food/drink/fun.