Holy fudge. Nothing is going to drag you from the soft glow of electric sex in the window ever again. You can now spend the night in the house from A Christmas Story.
The Parker residence from what is arguably the best Christmas movie ever is opening the loft on the third floor to guests. The house, situated across the street from a museum and memorabilia shop, has hosted tours since 2006 when it was restored to look exactly as it did in the 1983 classic. It will now accommodate up to six guests at a time year-round.
Recommended Video
Please Don't Hang Up: The Best Things to See, Eat, and Do in Portland, ME
The film was set in author Jean Shepherd's hometown of Hammond, Indiana. However, the house is actually located in Cleveland. The producers decided Cleveland in the '80s looked like Indiana in the '40s. Plus, Shepherd serendipitously grew up on Cleveland Street in Hammond.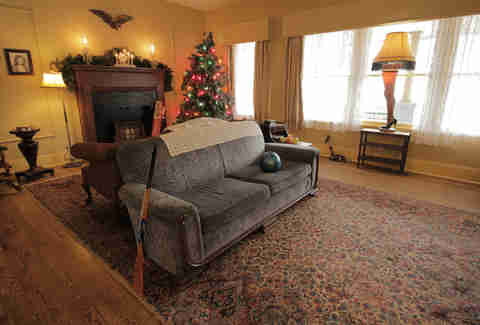 Your sleepover is relegated to the third-floor loft but from 6 pm to 9 am, the whole house is yours. Up on the third floor, you're provided with "a queen bed, queen sleeper sofa, and Ralphie and Randy's twin beds." You read that right. You can lay in Ralphie's bed dreaming of your very own Red Ryder.
Guests also have access to a living room, kitchen, and bathroom in the loft.
So, bust out your deranged Easter Bunny pajamas. The A Christmas Story House and Museum is taking reservations starting June 1 and rates start at $395 a night whether you're a Baptist, Catholic, or an Oldsmobile man. They get pretty steep around the holidays though, peaking $1,995 a night on Christmas Eve and Christmas Day. 
Sign up here for our daily Thrillist email, and get your fix of the best in food/drink/fun.