Spending FSA Money at the End of the Year Is a Nightmare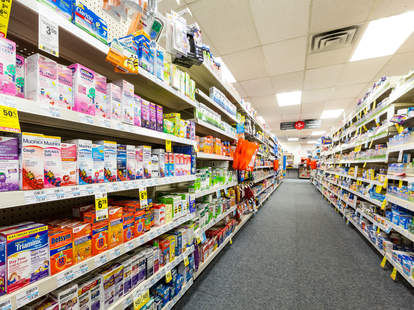 <a href="http://www.shutterstock.com/gallery-1391644p1.html?cr=00&amp;pl=edit-00">mandritoiu</a> / <a href="http://www.shutterstock.com/editorial?cr=00&amp;pl=edit-00">Shutterstock.com</a>
As a 31-year-old, single man with no children, I am crawling toward being a responsible human. Last year, that entailed opting in for my health insurance's Flexible Spending Account. I put enough money to more than cover usual medical expenses -- copays for physicals, prescriptions, etc. etc -- figuring I might actually go to a chiropractor. Or a shrink. My back and soul hurt, ya know?
But at the end of the year, I had about $100 left, and with how FSAs work, what you don't spend, you lose. Last week, I set out to spend it. Like any millennial, I googled "fsa eligible items," and lo, both insurance providers and drug stores offered their SEO-friendly advice. Numerous articles from a year or two ago told me I could buy such items as condoms, sunscreen, and band-aids. $100 is a lot of condoms, sunscreen, and band-aids. Hell, you can even buy a wheelchair, if you want one.
<a href="http://www.shutterstock.com/gallery-306484p1.html?cr=00&amp;pl=edit-00">Ekaterina_Minaeva</a> / <a href="http://www.shutterstock.com/editorial?cr=00&amp;pl=edit-00">Shutterstock.com</a>
Ever the deal-shopper (I'm middle class to my core), I went to [anonymous major drug store].com and used its friendly, FSA-eligible filter. I'd already read up on FSA changes in recent years -- like how you can't buy ibuprofen or OTC drugs without a prescription, for example -- and set out to buy things I knew I'd use. That precluded me from buying $100 of condoms. :(
Anyway, I filled my cart over the course of an hour, scrolling through bandages, sunscreens, "sexual wellness" items, and even eye drops. My 13 items totaled $99, on the dot. I even saved 15% with a promo code! Except, I didn't.
The website summarily rejected my FSA debit card, telling me the company did not accept FSA debit cards online. I immediately started a chat with a customer service representative, since the site tries to get you to talk with one upon every refresh. Harrison (fake name) told me it was simply company policy. I asked why this wasn't detailed on the site's main FSA page. He pointed to an asterisk that said, "restrictions apply."
"OK," I typed. "That's like saying, 'You've won a million dollars*... *No you didn't."
I then asked if the company accepted FSA debit cards in-store. Harrison told me it did. I was confused by this policy, and thanked Harrison for his help. I also told him to tell his supervisors to tell their bosses to eat shit.
Shutterstock

Earlier this week, I went to [anonymous big-box retailer] to spend my remaining $100 before work, fully refusing to give [anonymous major drug store] my $100. I am stupid and spiteful.
I filled up my cart with $99.54 of merchandise I understood to be fair game. At the checkout, two numbers popped up: $99.54 on the register, and $76.96 on the credit card keypad. I was told to pay the remainder with another card, and the cashier didn't know why. I did so, and my receipt told me $22.56 of my items -- dry-eye eyedrops and a first aid kit -- were not eligible. The first item was on me. You can buy rewetting drops for contacts without a prescription, but not any other kind of eyedrops without a prescription. Which doesn't make tons of sense, since you'd need a prescription to wear contacts. But OK. My bad.
As for the first aid kit, I bought the store's own brand, and not the name-brand one, because it was a few dollars cheaper. Only, again, it wasn't, because it wasn't eligible, even though pretty much every first aid kit appears to be eligible.
I promptly returned the two items, because I'm stubborn, and cheap, and trudged to work, knowing I had $23 left to spend. I'd be damned if I didn't spend that $23.
On my lunch break, I went to [anonymous major drug store], because it's next to my office. I bought four rolls of medical tape. Eyedrops for my surgically repaired eyes? Not cool. Tape I'll use for playing soccer? Totally cool.
The hallmark of someone with money is not giving a shit how much something costs. The hallmark of the poor is buying what's cheapest and often paying more in the long run (think cheaply made shoes). Being a spendthrift led to me saving a few dollars -- but wasting a colossal amount of time. As that saying goes, time is money. I'm a $100 moron.
At this point, my best advice, as someone who's gone through this racket, is to go to FSAstore.com, or visit your local drug store in person. That site is clearly marked with what items are eligible, with and without prescriptions. And someone at your drug store might actually know what items qualify. Often times, a marking on your receipt will say what's eligible, and at the register, some items may come up with an FSA designation. Look out for those cues.
Of course, at this point, you've likely already had to choose what sort of FSA you might use in 2016, and what expenses you can spend on. But if you're still trying to spend the last of your money for 2015, my best recommendation: condoms, sunscreen, and band-aids.

Sign up here for our daily Thrillist email, and get your fix of the best in food/drink/fun.
Ryan Craggs is Thrillist's Senior News Editor. He wastes hours of his life agonizing over almost any material purchase. Follow him at your peril @ryanrcraggs.