The First-Ever Spicy Skittles and Starburst Are Coming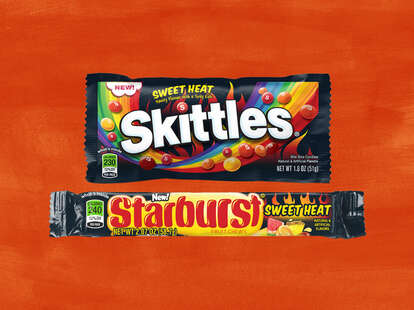 Courtesy of Wrigley
Courtesy of Wrigley
From cookie-stuffed Reese's to the new All-Pink packages of Starburst, major candy companies are constantly reinventing and repackaging their signature sweets so you'll end up impulsively buying even more of them. Wrigley's spicy -- yes, spicy -- new twist on Skittles and Starburst, however, may just go a bit too far.
No, really -- the first-ever spicy Skittles and spicy Starbursts exist now. The company officially unveiled the bizarre new candies -- Sweet Heat Skittles and Sweet Heat Starburst -- this week at the Sweets & Snacks Expo in Chicago. Both feature the kind of fruity flavors you'd expect to unwrap from the popular brands, but with the addition of a noticeably "spicy kick." One expo attendee, who goes by @junkfoodmom on Instagram, described the spicy Skittles as "awesome" and said "the heat slowly builds up."
Each package of the Sweet Heat Skittles features five new flavors: Fiery Watermelon, Blazin' Mango, Flamin' Orange, Sizzlin' Strawberry, and Lemon Spark, a company spokesperson said via email. Meanwhile, packs of the spicy Starburst come with four nearly identical flavors: Fiery Watermelon, Strawberry Mango, Flamin' Orange, and Pipin' Pineapple. Sure, the flavors actually sound pretty good, but you'll just have to get over the fact that you're popping spicy Skittles or chewing on a spicy Starburst.
Both new candies are set to hit checkout counter candy bar displays and candy aisles this December. Look out, Pink Starburst.
Sign up here for our daily Thrillist email, and get your fix of the best in food/drink/fun.
Tony Merevick is Cities News Editor at Thrillist and has never tasted a Skittle he didn't like. Send news tips to news@thrillist.com and follow him on Twitter @tonymerevick.