You Can Now Create a Spotify Playlist for Your Pet Based on Their Personality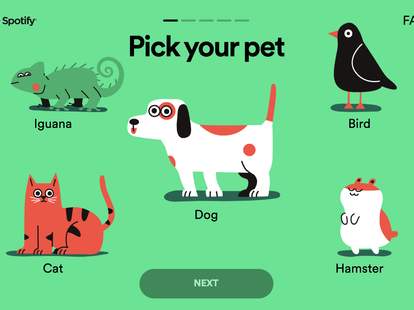 Your bright-eyed, bushy-tailed cat hates when you listen to "I Can't Make You Love Me" on repeat. He'd prefer something a bit bouncier, like maybe Jason Derulo's "The Rum Tum Tugger" from the bizarre 2019 motion picture Cats. Just ask Spotify, the apparent authority on feline easy listening, which on Wednesday launched a new playlist generator designed for exclusively your pets. 
To make the playlist, go to this link and pick which animal you own. Spotify seems to have determined that the most popular pets, aside from dogs, cats, and hamsters, are birds and iguanas (those are the only options). Once you've selected your animal you can pick from various character traits, like energetic or relaxed, shy or friendly, and apathetic or curious. 
Today I'll use the example of my friend's strange cat Ed, who will often flop on the floor in front of you, present his stomach, and bite you when you start to pet him. I decided to make him energetic, friendly, and curious, because there was no "sociopathic" or "anxiously attached" option in the mix. Spotify let me know that it was combining my musical taste with Ed's supposed personality before presenting this playlist:
While "Velvet Kitty Cat" by Prince is a bit too on the nose to be taken seriously, many of these selections proved to be particularly pleasing to Ed. For example, I asked my friend to play Yves Yumor's "Licking an Orchid" to see if he liked it, and Ed did nothing to suggest he did not like it. In fact, he did nothing at all.
Sign up here for our daily Thrillist email and subscribe here for our YouTube channel to get your fix of the best in food/drink/fun.