2018 has been rough, and there's probably plenty that's happened in the last 12 months that you may not want to dwell on. Still, it's good to take a minute to reflect on how you spent your time, or, at the very least, how much of your time you spent listening to Drake. On Thursday, Spotify made it easy to do just that with its annual Wrapped feature, which reveals a tons of info about your listening habits over the course of the year. 
Just as it's done in years past, Spotify launched its popular "year in review" microsite, giving you a personalized look at exactly what you listened to the most in 2018 along with some interesting trends about your tastes and habits. It also gives you a sense of how your taste in music compares to the most popular tracks, artists, and playlists of the year. Here's what you need to know, and how to see yours.
What Is Spotify Wrapped?
Spotify Wrapped is a sleek microsite built by the popular streaming service, which pulls data from your account and walks you through an overview of your listening habits throughout the year. In addition to showing you things like your most-listened to artist, song, and genres, it'll also give you a sense of just how much time you've spent jamming to individual tunes and podcasts. 
How to Find Your Spotify Year in Review
To access your own Spotify Wrapped you just have to head to the dedicated website and log in with your Spotify account info. From there, you simply follow a series of clicks and scrolls to reveal different details about your year in listening, including how much time you've spent using the streaming service. 
How to See How Many Minutes You've Listened To
On the second page of your Wrapped roundup, it'll ask you to guess how many minutes you spent listening to Spotify this year from three different minutes, and will reveal the correct answer no matter which one you select.
What Is the Spotify Wrapped Playlist?
In addition to all the info about what you listened to over the last 12 months, Spotify also compiles a personalized Wrapped Playlist for every user, based on their top tracks and artists. To see yours, head to the Wrapped site, then click and scroll through to the page that says "Top 100."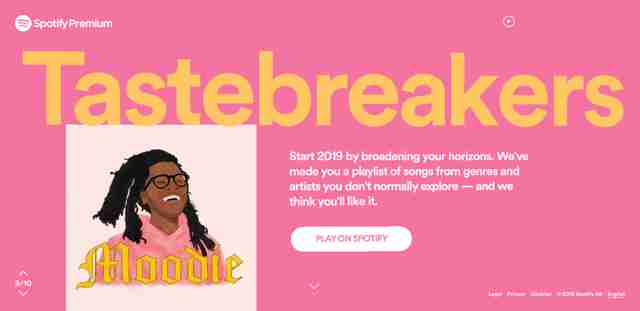 What Is the Tastebreakers Playlist?
This year, Spotify is putting together an additional playlist for all users as part of the Wrapped experience. Each person's Tastebreakers Playlist is intended to introduce you to new artists and tracks you might like, based on the genres and artists you've been listening to the most. To find and listen to yours, scroll through to the second-to-last page and tap "Play On Spotify."
Can You Listen to Your Wrapped or Tastebreakers Playlists Offline?
If you're a Premium Subscriber, the answer is yes. To make either your Top 100 or Tastebreakers playlist available for offline listening you simply need to save them individually to your playlist library, then select the "Download" option on whatever device you want to listen to them on while offline (just make sure you have enough space to support this).
How Do You Share Your Spotify Wrapped 2018?
Spotify is making it incredibly easy to broadcast your year in review on social media. On the last page of your Wrapped roundup, you'll have the option to share yours on Facebook, Twitter, or Instagram. Plus, if you're a Spotify Premium subscriber, you'll have the additional option to throw yours in the running to be featured on a enormous Spotify billboard in Times Square alongside your photo.
What Was the Most Listened to Music Overall in 2018?
According to Spotify's user data, the most-streamed artist in 2018 was Drake, who received a whopping 8.2 billion streams overall. Rounding out the top five were Post Malone, XXXTENTACION, J Balvin, and Ed Sheeran. In terms of female artists, the most-streamed was Ariana Grande, followed by Dua Lipa, Cardi B, Taylor Swift, and Camila Cabello. Spotify also put together a chart detailing additional top most-streamed stats for 2018 (shown below).
What Were the Most-Followed Playlists?
One of the reasons people are so enamored with Spotify is because of its uncanny ability to serve up great music recommendations to help you discover new artists or songs you might like. To that end, its expertly curated playlists are an incredible resource when you're in the mood for a certain vibe. So which playlists are most popular? According to the data, the most-followed playlist was "Today's Top Hits," followed by "RapCaviar", "¡Viva Latino!" "Baila Reggaeton," and "Songs to Sing in the Car."
What Were the Most Streamed Podcasts?
In 2018, more and more people used Spotify to catch up on their favorite podcasts, and the streaming service even took some big steps by producing a number of its own. According to the 2018 listening stats, the overall most-streamed podcast genre was Crime and Mystery, followed by Comedy, News & Politics, Health, and Arts. 
Sign up here for our daily Thrillist email and subscribe here for our YouTube channel to get your fix of the best in food/drink/fun.