Here's How to See What You Listened to Most on Spotify This Year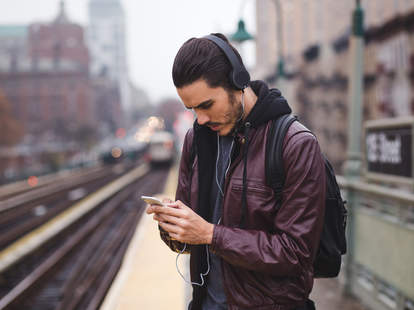 2019 is finally -- dare we say mercifully -- coming to a close. You might remember it as the year you ate too many fried chicken sandwiches, or the year of the inaugural White Claw summer, or maybe it was the year you first tried whisky Tide Pods. There's a lot from the last 12 months to reflect on, and thankfully, Spotify is making it a little easier with the return of its Wrapped feature, which shows provides a nice summation of your listening habits throughout the year.
Spotify officially released this year's Wrapped recap this week, unveiling the most listened to artists, albums, songs, and podcasts of the year. Just like previous years, the streaming service also launched its popular "year in review" feature on Thursday, giving you a deep and personalized look at what you listened to the most in 2019. The feature even tells you how many minutes of music you've listened to and how many songs you've "liked" this year.
Here's what you need to know, and how to see your year in review: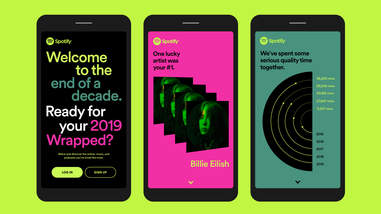 Courtesy of Spotify
What is Spotify Wrapped?
Spotify Wrapped is a specially crafted site that collects your listening history and spits out a visual overview of your habits, taste in music, and other interesting tidbits that you'd only know if you somehow managed to obsessively track everything that went in your ears. The results include bespoke insights into your most-listened-to artists, songs, playlists, podcasts, and genres.
You'll also get to see the total time you've spent listening to music throughout the year, which could very well be the wakeup call you need to stop listening to the Mountain Goats cover Ace of Base on repeat. No one? Just me?
 
Courtesy of Spotify
How to find your Spotify year in review
For the first time, Spotify is making your Spotify Wrapped available directly in the Spotify app in addition to the dedicated website, where it has been trapped for years. If you're not already logged in, you'll have to enter your email and password. After that, explore the page by scrolling and tapping into different highlights from your last 12 months of tunes and bask in the trip down memory lane. By all means open Spotify on another device and cue up Green Day's "Good Riddance (Time of Your Life)" while you're at it.
You'll get to sift through the information, and you'll wind up with a very shareable image of what you've been listening to. Though, if you're not comfortable with the number of times your kids (ahem) listened to Lil Nas X on your account, you don't have to share.
How do you share Your Spotify Wrapped 2019?
While you've probably shared your Wrapped by posting screenshots in the past, Spotify is again making it dangerously easy to broadcast your incredibly great -- and frankly enviable -- taste in music via Instagram, Facebook, Twitter, and Snapchat. Scroll through the page and you'll find share cards with highlights from your year in review that you can share/overshare on social media like your first-born is heading to their first day of kindergarten.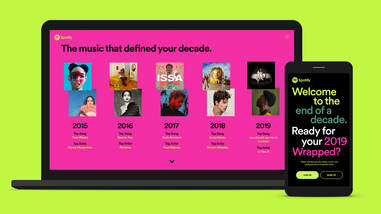 Courtesy of Spotify
How do you get "My Decade Wrapped"?
Yes, it's 2019. That's a wrap on another decade. So, Spotify is also offering you a glimpse at your listening habits over the last 10 years. You can access that in the same way you grabbed your "Spotify Wrapped" info. Scrolling through is the same and sharing cards detailing your listening insights is the same. Perhaps the only thing that's different is your willingness to reveal the No. 1 artist and top songs you've listened to over and over again throughout the last decade.
What Was the Most-Streamed Music in 2019?
Spotify divided the 2019 list into listening habits around the world and in the US. The most-listened-to artist in the world was Post Malone, who raked in a staggering more than 6.5 billion streams. He's followed by Billie Eilish, Ariana Grande, Ed Sheeran, and Bad Bunny. That aligns with Spotify's list of the most-streamed albums around the globe, which was topped by Billie Eilish's When We All Fall Asleep, Where Do We Go?, followed by Post Malone's Hollywood's Bleeding, Ariana Grande's thank u, next, Ed Sheeran's No.6 Collaborations Project, and Shawn Mendes' self-titled album. 
While that all seems to make sense, things get a little more mixed up when it comes to the global list of the most-streamed songs. That list is topped by "Señorita" by Camila Cabello and Shawn Mendes, which was the only song that crossed the billion-listen threshold for the year. It's followed by "bad guy" by Billie Eilish, "Sunflower" by Post Malone and Swae Lee, "7 Rings" by Ariana Grande, and "Old Town Road - Remix" by Lil Nas X with Billy Ray Cyrus. Then again, are there any surprises there?
The lists inside the US are similar, though it looks like the US likes Post Malone a lot more than the rest of the world. The most-streamed artist list in the United States was topped by Post Malone but was instead followed by Drake, Billie Eilish, Ariana Grande, and Khalid. Ol' Post wound up with two albums on the top albums list. Hollywood's Bleeding led the way with Billie Eilish's When We All Fall Asleep, Where Do We Go? coming in second. The list was rounded out by Ariana Grande's thank u, next, Post Malone's beerbongs and bentleys, and Khalid's Free Spirit.
Finally, the top songs in the US were dominated by Post Malone. "Sunflower" took the top spot, followed by Post Malone's "Wow," Ariana Grande's "7 Rings," J. Cole's "MIDDLE CHILD," and Billie Eilish's "bad guy." See any parallels with your personalized list? You're probably not alone.
What Were the Most-Streamed Podcasts in 2019?
If you're looking for new podcasts to fill your commute, you might be interested in the most-streamed podcasts of the year. The Joe Budden Podcast took top honors there, followed by My Favorite Murder with Karen Kilgariff and Georgia Hardstark. The next two slots were grabbed by the German podcasts Gemischtes Hack and Fest & Flauschig. Rounding out the list is The Misfits Podcast. 
If that reads like an ancient runic language to you, but you want to listen to more podcasts in 2020, Spotify's new interface might be a boon. Free users with no podcast listening history will now see a card on the homepage that says "Get podcasts for you." There you can select topics and interests that you want to dig into. It will then display podcasts based on your stated interests. It's a feature only available in select countries, but the US and Canada are among those regions.
Courtesy of Spotify
Who Were the Most-Streamed Artists of the Decade?
Globally, the most-streamed artist of the last 10 years was Drake, with a total of more than 28 billion streams -- at least 1 billion of which came from a rogue Thrillist employee playing "Hotline Bling" on repeat in the office. Rounding out that list is Game of Thrones' Ed Sheeran, Post Malone, Ariana Grande, and Eminem. The top five female artists were Grande, followed by Rihanna, Taylor Swift, Sia, and Beyoncé.
What Were the Most-Streamed Songs of the Decade?
The songs that ruled the decade like megalodon ruled the Pliocene oceans, include, in order, "Shape of You" by Ed Sheeran with more than 2.3 billion streams. That was followed by "One Dance" by Drake with Kyla and WizKid, "rockstar (feat. 21 Savage)" by Post Malone, "Closer" by The Chainsmokers with Halsey, and "Thinking out Loud" by Ed Sheeran. 
If you want to hear those songs (again, obviously) Spotify has put together a playlist featuring all the biggest songs* of the decade. Plus, there are tons of other playlists from the service's editorial team that can help you hone in on some of the best songs of the decade and year in whatever genre you're in the mood for.
*At least, the biggest as far as streaming is concerned. Grand Funk Railroad is still dominating the eight-track lists, probably.
Sign up here for our daily Thrillist email and subscribe here for our YouTube channel to get your fix of the best in food/drink/fun.