Sprint Is Giving Verizon Customers a Year of Free Service on the DL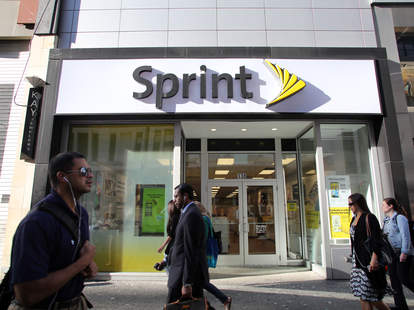 Somehow, this is a real thing. Sprint, the fourth largest of the nation's four major wireless providers, is offering a freebie that's just for Verizon customers. Sprint is giving Verizon users a free year of voice and data service if you bring your own phone to the deal, according to Bloomberg. 
Sprint, whose unlimited data prices are already quite low, isn't doing a big media campaign around the deal. Instead, the company is targeting Verizon customers through online ad and email campaigns. The offer is available online and valid through June 30, a Sprint spokesperson told Bloomberg. The free service can extend for up to five lines and will last until July 31, 2018, but it's limited to current Verizon customers who can bring in their own unlocked phone.
Though, of course, it's not 100 percent free. New customers have to purchase a Sprint SIM card ($2.99 and $10 shipping) and enroll in autopay. There's also a $2.39 monthly fee ($1.99 administrative fee and $0.40 regulatory fee) because you're never going to escape those incomprehensible fees.
Importantly for customers thinking of making the change, USA Today reports there's no contract. So, you'd be free to change companies once you've high-fived away your year of free service.
If you take Sprint up on the offer, you keep your number and are enrolled in Sprint's unlimited plan. When it's not being gifted, that plan costs $50 per month for a single line and $90 per month for up to five lines. The plan includes unlimited talk, text, and 4G LTE data, as well as 10 gigabytes of mobile hotspot and video streams in high definition, according to the USA Today.
While its unlimited is the most affordable of the major carriers, it also sports the industry's lowest customer satisfaction rating according to J.D. Power. 
David Tovar, Sprint's senior vice president of corporate communications, told the publication this is an experiment the paper characterizes as "focusing specifically on Verizon customers who already own their devices and aren't necessarily looking to upgrade or change carriers."
Sprint is lagging behind other mobile carriers and this may be a desperation move to boost its subscriber base. Bloomberg reports that SoftBank Group Corp., owners of Sprint, have had "preliminary talks" with T-Mobile's part company Deutsche Telekom AG about a potential merger. One challenge to a merger is convincing regulators that a three-company market will benefit consumers. That could be tough when a four-company market is driving companies to give away a year of free service. 
Sign up here for our daily Thrillist email, and get your fix of the best in food/drink/fun.
Dustin Nelson is a News Writer with Thrillist. He holds a Guinness World Record but has never met the fingernail lady. Follow him @dlukenelson.