Sprite Has a New Bottle Design After 60 Years, See It Here
The decision is part of the company's efforts to reduce plastic waste.
CHIVI SEYFETTIN/Shutterstock
After 60 years in the same green bottle, the Sprite soda maker is changing its packaging beginning on August 1, the company announced earlier this week.
The decision to transition to clear plastic is part of Sprite's commitment to environmental sustainability. The new bottle can more easily be remade into new packaging, while the current green polyethylene terephthalate (PET) is an additive that is not recyclable. This comes as part of the company's efforts to reduce plastic waste.
"Taking colors out of bottles improves the quality of the recycled material," said Julian Ochoa, CEO of R3CYCLE, which is currently working with Coca-Cola to create bottle-to-bottle recycling. "This transition will help increase availability of food-grade rPET. When recycled, clear PET Sprite bottles can be remade into bottles, helping drive a circular economy for plastic."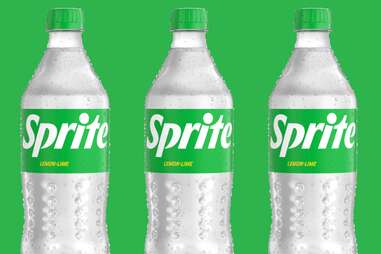 The new design will also include a revamped logo to create a more "consistent look and voice around the world," the company said in the announcement. The familiar green will still be incorporated into the aesthetic, and it will also include "Recycle Me" messaging on the bottle.
According to CNN, the Coca-Cola Company, which owns Sprite, has faced harsh criticism for its environmentally damaging plastic waste. In fact, in 2020, environmental firm Break Free From Plastic named the company the world's number one plastic polluter and claimed the logos and branding were found on 13,834 pieces of discarded plastic in parks and beaches across 51 countries.