JetBlue's New 'Star Wars'-Themed Sale Has 25% Off Flights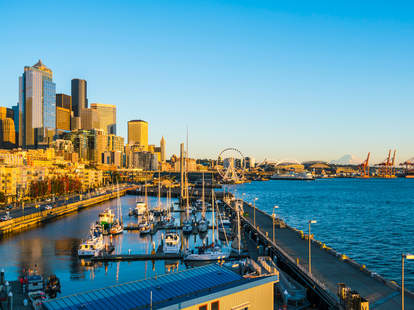 In case the most dedicated Star Wars fans in your life haven't reminded you already, Friday is a big day. It's May 4, the day of the year recognized as Star Wars day, when fans across the world commemorate the iconic George Lucas franchise. You'll undoubtedly be bombarded with a deluge of "May the fourth be with you" memes, but there's another big reason to embrace the unofficial holiday: JetBlue is getting in on the action by offering a 25% discount on a bunch of flights all over the country.
The airline's Star Wars-themed flash sale is a play on the punny catchphrase that inspired the celebration by taking a fourth off the price of its base fares for select routes. There are currently deals on flights from six different cities: Ft. Lauderdale, New York, Boston, Orlando, Long Beach, and San Juan, Puerto Rico.
To get in on the action, you have to enter a special promo code at checkout (each one is different, depending on the departure city), and the discount will be applied to both one-way and roundtrip flights. If you're curious which routes are on sale at the moment, here's the full list (JetBlue says it may update or add more, so just keep an eye on the official flash sale page).
Roundtrips and one-way flights from Ft. Lauderdale to:
Cancun, Mexico
Charleston, South Carolina
Havana, Cuba
Mexico City, Mexico
San Diego, California
Raleigh/Durham, North Carolina
Richmond, Virginia
Roundtrips and one-way flights from New York to:
Cancun, Mexico
Denver, Colorado
Portland, Maine
San Juan, Puerto Rico
West Palm Beach, Florida
Roundtrips and one-way flights from Boston to:
Atlanta, Georgia
Cancun, Mexico
Fort Myers, Florida
Jacksonville, Florida
Minneapolis/St. Paul, Minnesota
San Juan, Puerto Rico
Seattle, Washington
Roundtrips and one-way flights from Orlando to:
Cancun, Mexico
San Juan, Puerto Rico
Los Angeles, California
Richmond, Virginia
Roundtrips and one-way flights from San Juan to:
Ft. Lauderdale, Florida
Newark, New Jersey
Tampa, Florida
Washington, DC
Roundtrips and one-way flights from Long Beach to:
Las Vegas, Nevada
Oakland, California
San Francisco, California
San Jose, California
Of course, as with most JetBlue flash sales, there's some fine print to consider before you pull the trigger on booking anything. The 25% discount applies only to travel between May 5-23 and May 29-June 21. Also, the promo excludes departures on Friday and Sunday, so you'll need to have a little flexibility if you're hoping to score a cheap weekend getaway. You also need to book by 11:59pm on May 5, when the sale ends.
A fourth off may not seem like a huge discount, but it's quite a chunk of change when you're looking at a roundtrip flight that typically costs north of $200, which is what fares run for many of the eligible routes listed above.
And if organizing a last-minute trip isn't in the cards for you today, there are still plenty of special ways to celebrate the occasion. As always, may the force be with you.
Sign up here for our daily Thrillist email and subscribe here for our YouTube channel to get your fix of the best in food/drink/fun.