Disney's Totally Immersive 'Star Wars' Hotel Is Childhood Dreams Come True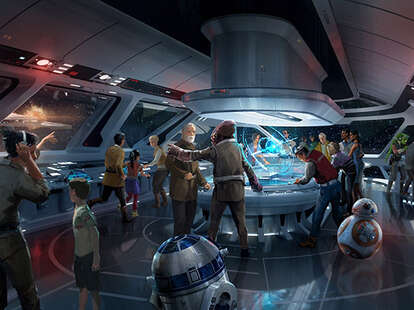 Joshua Sudock/Disneyland Resort
If you watched Star Wars as a kid and dreamed of living in that universe, you aren't alone. Amazingly, you're going to get closer to that goal than you imagined possible. You won't be able to investigate whether Greedo shot first, but you can spend a few nights in a completely immersive Star Wars hotel.
It will be located inside the $1 billion Star Wars Land at Disney World called Galaxy's Edge, which was formally announced at the D23 Disney fan convention over the weekend.
Guests at the hotel will be sunk deep into the world of Star Wars. They will experience a totally unique story that will encompass the trip and "touch every single minute" of your stay, says Disney's resort chairman Bob Chapek. Guests dress in Star Wars clothing, live in a starship, and they'll wander around with familiar faces from the films. Also, every window in the hotel looks out into space because you're obviously in space.
Like the "Galaxy's Edge" parks (there will be one at Disney Land and Disney World), the experience is expected to be interactive. The "story" taking place in the park is altered by the actions you take. Characters might recruit you for missions, and your performance on the mission could results in anything from receiving extra credits (intergalactic money) to you being stalked by bounty hunters through the park.
How all of the interactivity works hasn't been fully revealed, but it sounds exciting and weird so far.
The two parks are slated to open in 2019, with Galaxy's Edge in Anaheim officially opening first.
h/t Gizmodo
Sign up here for our daily Thrillist email, and get your fix of the best in food/drink/fun.
Dustin Nelson is a News Writer with Thrillist. He holds a Guinness World Record but has never met the fingernail lady. Follow him @dlukenelson.