Starbucks' Holiday Cups Will Score You a Major Perk on This Airline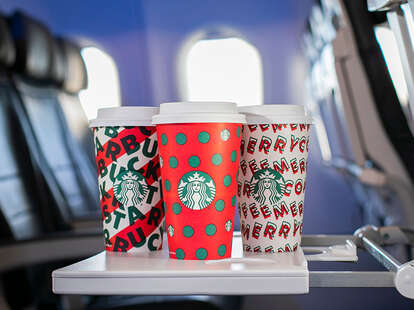 Ingrid Barrentine/Alaska Airlines
Aside from getting a necessary caffeine-boost before flying 35,000 feet through the air, buying a Starbucks beverage -- complete with one of four new holiday cups -- now unlocks an additional benefit: early boarding on Alaska Airlines flights.
From November 7 through November 10, all travelers carrying a festive Starbucks cup, including the free reusable one, will be able to board earlier than their decidedly less festive and potentially less caffeinated counterparts. And no, you don't have to indulge in a super sweet holiday drink, like the Toasted White Chocolate Mocha, to get this deal -- you're allowed to be sippin' on plain black coffee. We're not saying you'll be the first ones on the plane hanging out in a business class seat, but Starbucks fans carrying a merry cup will get priority seating after Group B. And as they say, better latte than never. OK, OK, nobody says that.
This promotion is running at all airports where Alaska operates, so just be sure to hang on to your spirited holiday cup and listen to your gate agent to expedite your boarding process. For airport Starbucks that don't currently have the holiday cups, be sure to snag a holiday sleeve and take the "espresso lane" to ample overhead bin space.
Ah, a Peppermint Mocha has never tasted so sweet.
Sign up here for our daily Thrillist email and subscribe here for our YouTube channel to get your fix of the best in food/drink/fun.
Kat Thompson is a staff writer at Thrillist. Follow her on Twitter @katthompsonn.