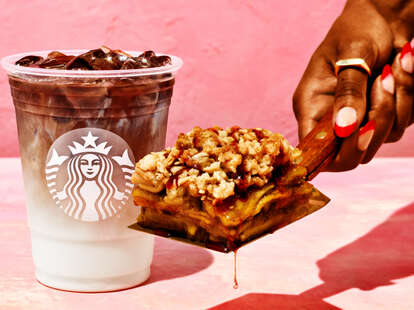 The Pumpkin Spice Latte is back at Starbucks for the 18th year as of this week. But it's not the only festive fall beverage joining this season's lineup. There's a totally new drink arriving on the menu alongside the PSL on Tuesday.
In addition to the PSL and best-selling Pumpkin Cream Cold Brew), the Seattle-based coffee giant is unleashing what's dubbed the Apple Crisp Macchiato. The all-new drink—available hot or iced—features apple and brown sugar flavors that mimic your favorite gooey apple pie filling. It's swirled with espresso, steamed milk, and caramelized-spiced apple drizzle. We tried the new drink at a press preview in NYC last week and can confirm that it does indeed taste like apple pie.
Raegan Powell, the senior product developer at Starbucks who created the Apple Crisp Macchiato, said oat milk is her preferred option for the drink. While, of course, you can go the full-dairy or even the almond milk route, Powell notes that the oat notes pair perfectly with the pie flavors.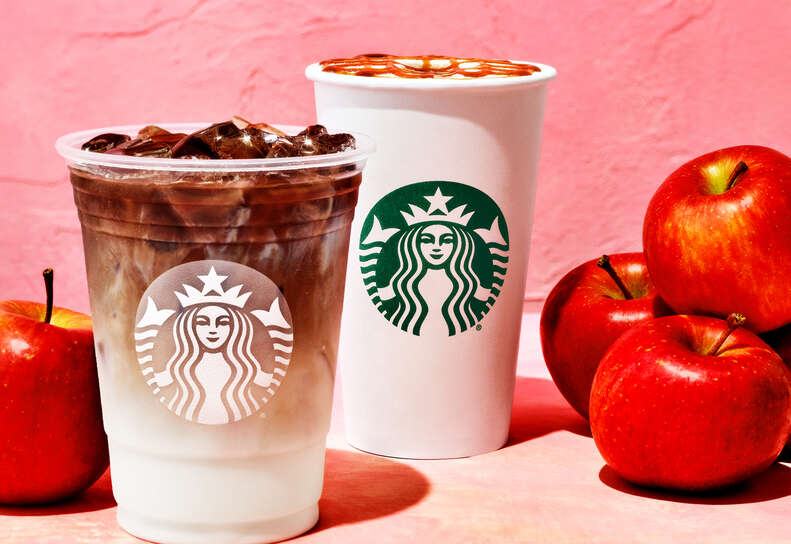 "For many customers, Starbucks signals the start of the fall season and has inspired a cultural phenomenon around fall flavor and products," Powell said in a statement. "Fall at Starbucks brings customers back to the nostalgic flavors of the season and our team used that inspiration to create a new flavor that celebrates those feelings of comfort and familiarity."
The Apple Crisp Macchiato smells and tastes like an apple pie fresh out of the oven, evoking feelings of familiarity. The caramelized-spiced apple drizzle, which adds the perfect indulgence, is made from apple juice, apple puree, cinnamon, and nutmeg on a steamed milk foam. It's also latticed on top (see the photo above), kind of like an apple pie.
"Creating an ingredient with a spicy baked apple flavor was crucial to be able to bridge an autumn red apple to espresso," Powell added. "Consider how well a delicious slice of warm apple pie pairs with a cup of coffee or how well the combination of Starbucks roasty signature espresso pairs with warm spices such as cinnamon and nutmeg."
Megan Schaltegger is a staff writer at Thrillist.