This Starbucks' 'Baby Vomit' Drink Sounds Awful, But You Should Try It
This Starbucks barista deserves a medal. After being asked to concoct a specialty drink with seventeen different ingredients, the barista took to Reddit, posting the contents of the monstrosity for all to witness the horror.
The barista, who posts as Miyomel, was joined by fellow Starbucks employees on the r/Starbucks subreddit, where they collectively dubbed the drink "Baby Vomit." Why? Because it's enough to turn your stomach and leave you reaching for the dramamine.
Here are the ingredients, in all of their sugary glory:
1 pump sugar-free vanilla
1 pump sugar-free cinnamon dolce
1 pump pumpkin spice
2 pumps sugar-free hazelnut
1 pump sugar-free mocha
1 pump sugar-free caramel syrup
Coconut milk
6 scoops matcha powder
Mocha drizzle
Light vanilla powder
Light caramel drizzle
Light cinnamon powder
Light nutmeg powder
Add salt topping
Add whip
Light ice
Pumpkin topping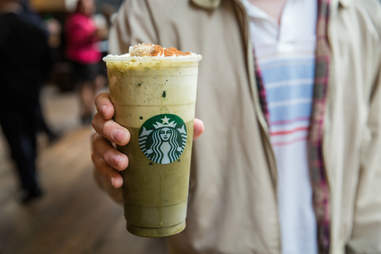 Emily Teague/Thrillist
This glutinous drink was ordered by a woman named "Alice," who apparently laughed upon viewing its chunky, dark green hue. For all we know, that laugh was probably maniacal, echoing throughout the Starbucks store like a deranged siren.
The clientele at Starbucks can be demanding, so it's plausible that customers regularly place orders as ridiculous as this "Baby Vomit" nightmare. Baristas have a litany of stories that recount episodes just as bizarre. Hats off to the people making your ice-blended abominations, folks.
Sign up here for our daily Thrillist email, and get your fix of the best in food/drink/fun.
Sam Blum is a News Staff Writer for Thrillist. He's also a martial arts and music nerd who appreciates a fine sandwich and cute dogs. Find his clips in The Guardian, Rolling Stone, The A.V. Club and Vice. He's on Twitter @Blumnessmonster.