This Starbucks Barista is Begging You Not to Order Its New Drink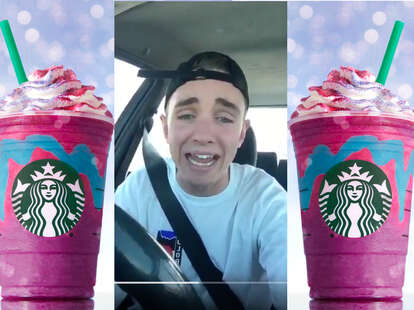 As social media buzzes brighter than a neon rainbow over Starbucks' limited edition Unicorn Frappuccino, at least one beleaguered barista has already had it with making cup after cup after cup of the sugar-packed concoction for customers during his shifts. He is so fed up, in fact, that he uploaded a passionate rant of himself pleading with people to stop ordering them to Twitter.
Recording himself while apparently driving (c'mon, man), Starbucks employee Brandon Burson decries the hordes of customers coming in to get a taste -- and obligatory Instagram pic -- of the limited edition blended beverage, which he explains tastes "like a sweet tart." He keeps it together for a few seconds, before unleashing an emotional plea: "I have never made so many Frappuccinos in my entire life. My hands are completely sticky. I have unicorn crap all in my hair and on my nose. I have never been so stressed out in my entire life! If you love us as baristas, don't order it!"
Much like the Unicorn Frapp itself, Burson's tirade has gone viral in its own right, racking up more than 1,500 Retweets and over 3,000 likes. It's unclear how his employer feels about him broadcasting his less-than-enthusiastic feelings about its latest hit product so publicly, but fortunately for him he'll only have to keep making them until April 23, when the limited-edition drink is scheduled to disappear from the menu.
Update 2:55pm: it appears Burson removed the video. Perhaps corporate caught wind and didn't enjoy it as much as we did?
h/t MassLive
Sign up here for our daily Thrillist email, and get your fix of the best in food/drink/fun.