Starbucks' Unicorn Frappuccino, available through the weekend, has commanded more attention than any other ice-blended, sugary concoction sold by the coffee purveyor in recent memory.
Due to the laborious process of making the drink -- which looks like rainbow barf -- and its sky-high demand among customers, baristas across the coffee empire are reeling. Which is why one Starbucks employee, who posted a photo of two similar drinks to Reddit, is now the bane of green-aprons everywhere.
User auksyyyt unveiled these two vibrantly-hued drinks, which are ostensibly part of the same flavor-changing, "unicorn" family: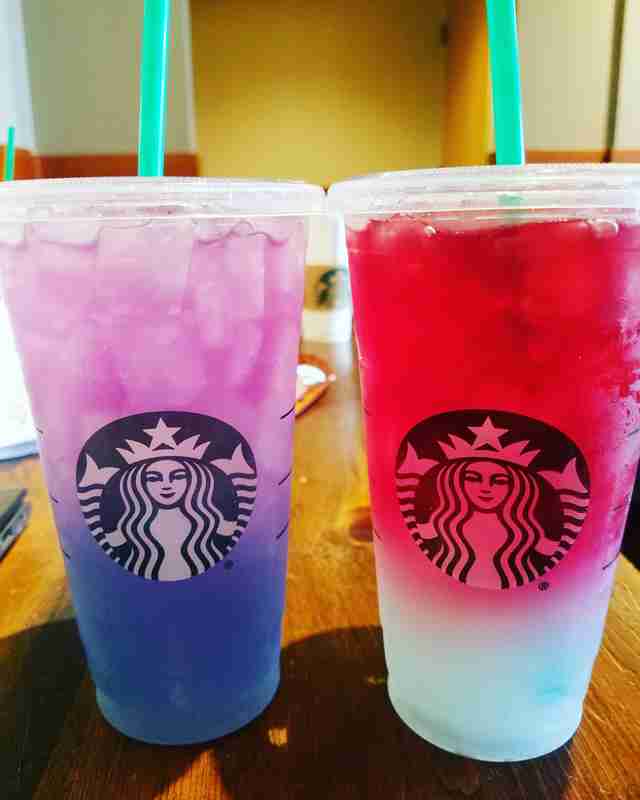 Trumpeting their work as the product of getting "creative with powders :)," auksyyyt wrote that the drink on the left is made with the Unicorn Frapp's blue powder on the bottom and pink powder on top. The drink on the right is a "lemonade with the blue powder on the bottom and then passion tea on top."
A little innocent tinkering with powders hasn't endeared the rest of Starbucks Reddit to their colleague's work, namely because baristas hate making the Unicorn Frapp, expressing their rage in well-publicized rants online.
As the Unicorn Frappuccino is only available through this weekend -- it is a "unicorn," after all -- it's likely that Starbucks will retire the magical powder in the coming days, if supplies even last that long. If the drink becomes a regular menu item though, you might have this Redditor to thank. Or blame.
We feel for the baristas of America, caked in unicorn powder as they are.  
[h/t Foodbeast]
Sign up here for our daily Thrillist email, and get your fix of the best in food/drink/fun.