This Special Starbucks Tumbler Gets You Free Coffee Every Day for a Month
Black Friday and Cyber Monday aren't only limited to deals on huge TVs, video game consoles, and endless products from Walmart. You can also snag some some deals at Starbucks, including a special drink tumbler that will score you free coffee every day for an entire month. Here's exactly what's on the table:
The Gray Brewed Refill Tumbler
If your go-to Starbucks order is just a regular drip coffee, then this tumbler deal is for you. The sleek, 16oz tumbler will be available for purchase at Starbucks locations beginning on November 26 for $40. From there, every grande coffee or tea -- no lattes or other speciality drinks here, unfortunately -- you get throughout the month of January will be completely free. If you go every single day, that's $91.45 worth of hot tea or $89.59 worth of coffee, which means you'll save money. Plus, you get a cool tumbler that you can use throughout the year.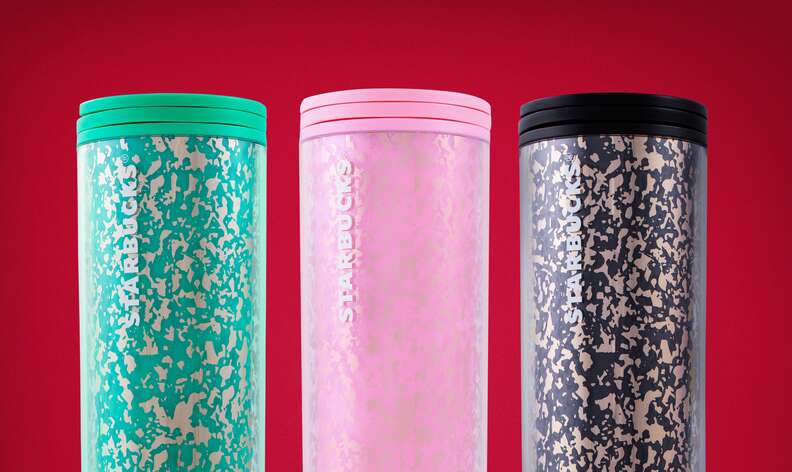 Gold Foil Tumblers
If you want a branded Starbucks tumbler but don't think you're the type to visit Starbucks every single day, and therefore the $40 price tag of the grey one isn't a value to you, then fret not: you can still snag one of Starbucks' gold foil tumblers for 10 bucks. The glitzy tumblers, which come in pink, green, and black, are available beginning November 26 through December 25. Get it for the Starbucks aficionado in your life.
Get a Gift Card Bonus
This is the type of present you get when you want to lowkey treat yourself while gifting others. On Cyber Monday, which falls on December 2 this year, you'll score your own $5 e-gift card for every gift card purchase valued at $20 or more. Get Starbucks for the whole family and score multiple Toasted White Chocolate Mochas in the process.
Sign up here for our daily Thrillist email and subscribe here for our YouTube channel to get your fix of the best in food/drink/fun.
Kat Thompson is a staff writer at Thrillist. Follow her on Twitter @katthompsonn.