Starbucks Is Serving a Special Cherry-Flavored Mocha for 1 Week Only
The iconic chocolate-cherry flavor combo is due to return to Starbucks locations across the country on Thursday, February 7...
Courtesy of Starbucks
Courtesy of Starbucks
You can hate on the concept of Valentine's Day all you want, but there's something to be said for the annual avalanche of special food, drink, and other treats for the occasion. You can get heart-shaped pizzas, donuts with decadent fillings, and maybe those chalky conversation heart candies you don't particularly like but also don't hate. And this year, you can even get V-Day themed coffee, thanks to the return of the Cherry Mocha at Starbucks.
The iconic chocolate-cherry flavor combo is due to return to Starbucks locations across the country on Thursday, giving you plenty of time to sip one in the lead-up to the holiday. If you missed out on it last year, the drink is pretty much exactly what it sounds like -- a rich, espresso-based beverage that "highlights flavors of chocolate and cherry," according to a company spokesperson.
The hot version of the drink is made by combining mocha sauce, candied cherry syrup, and espresso with steamed milk of your choice, then it's topped with whipped cream and "a dusting of sugar and cocoa Valentine's sprinkles." It's Valentine's Day candy in a cup.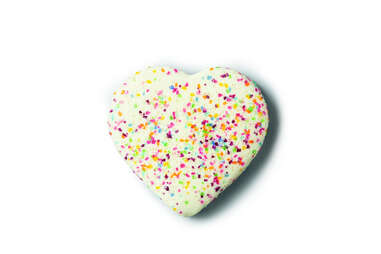 Cherry Mocha returning to Starbucks is exciting news, but it won't be around long. The seasonal flavor is expected to disappear for another year on February 14. But, hey, that's probably longer than some of your Tinder matches have hung around.
The festive treats don't stop there. Starbucks has also added a few Valentine's-themed desserts to its bakery case, along with some new additions to the Starbucks at home lineup. You can pair your Cherry Mocha drink with a Valentine's Day cake pop, which features a heart shaped ball of "rich chocolate cake" covered in chocolate icing and topped with heart candies. Or grab a Valentine's Day heart sugar cookie, topped with white chocolate coating and colored sprinkles.
Those who aren't able to make it into a Starbucks for dessert or a coffee can grab one of two new chocolatey coffee flavors at the grocery store. Starbucks at home now features a Ready-to-Drink Molten Chocolate Latte and a Mocha Flavored Ground Coffee. You know, because chocolate everything is the obvious way to fill the romantic void in your life.
However you plan on spending Valentine's Day, treat yo'self, baby. You deserve it.
Sign up here for our daily Thrillist email and subscribe here for our YouTube channel to get your fix of the best in food/drink/fun.
Caitlyn Hitt is Daria IRL. Don't take our word for it -- find her on Twitter @nyltiaccc.